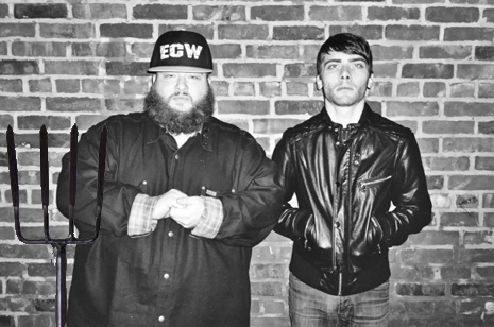 Editor's note: Do you remember the Grandmaster? Well here he is again with a guest drop on why the hipster media exploits rap for its credibility until shit gets real…
"yesterday, [Action Bronson] crossed over into unsettling territory … he posted Instagram photos of a supposedly incapacitated transgender person that a friend of his had poured water on.
"Lame and reckless all around." – Carrie Battan, Pitchfork News
"Hood" and "hip" are on-again off-again business partners. In the '60s, Detroit Red sold drugs to slumming Manhattan socialites, while Jean-Michel Basquiat's '80s rise to art world stardom was boosted by his connection to Andy Warhol's pop art circles.
Today, as Cam'ron and the Clipse before them, groups like Odd Future/Wolf Gang, A$AP MOB, and a crop of loosely-affiliated emcees (Danny Brown, Mr. Muthafuckin' eXquire, Das Racist, etc.) are being embraced by a White hipster scene craving the authentic voice of the streets.
But as Tyler, The Creator and Action Bronson share Terry Richardson's lens with Lady Gaga and Kate Moss, is the hood being valued – or exploited?
Pitchfork is a signpost for the hipster music scene: reporting on it while also charting its course. Sometimes that trend-setting (word to Prodigy) can be cutting: they're notorious for dropping 0.0's on undeserving albums, and recently Childish Gambino's Camp received a 1.6.
Considering this, the comparatively high scores that Action Bronson's last three full-length efforts received – Dr. Lecter and Blue Chips got 8.1's, while Well-Done copped to a 7.1 – represent a strong endorsement of his style and content. Pitchfork's string of positive reviews provided him with breakthrough media coverage, filled with comments like "Bronson boasts his own brand of gonzo humor, subtle pathos, and specificity". By "specificity", I assume they mean not only references to obscure French cheeses, but also to lines like "7 times she got stabbed in the back / By a regular john… / That's what she gets for being a whore though".
So it felt a little surprising this past Thursday when, on a Greyhound to New York, I pulled out my iPhone and saw a headline on Pitchfork: "Action Bronson Stupidly Posts Photo of "Drunk Mexican Tranny", Rightly Gets in Trouble".
The blog post said "[Action's lyrics] crossed over into unsettling territory when he went on a Twitter tear in which he posted Instagram photos of a supposedly incapacitated transgender person that a friend of his had poured water on."
Oh, word? That's when it crossed over?
This from the same site that once wrote that "Bronson's lyrics can be ignorant as fuck ("Take a dyke on a date/ She let me pipe cuz I'm an ape"), but … He's just kicking silly bullshit, and it's tough to imagine anyone seriously getting offended."
Action's lyrics were "silly bullshit" while they rode shotgun in iTunes; but when he took to Instagram, connecting his lyrics to an actual environment and lifestyle, that was the step too far? While Action plays the part of chubby hood jester, rapping about bruschetta and occasionally slapping women or juxing fags, hey, it's all part of his "swag"; but God forbid he actually disrespects a woman or objectifies a gay person. That's when it goes too far.
Here is the problem: Bronson's New York swagger isn't just some goofy fat guy schtick. He's Queens through and through, and the Pitchfork hipsters-in-chief seemed to misunderstand – or not care – what they were co-signing when they call him a "raw Queens charmer, scheming in the tradition of old working class New York". To be working class in New York is to be funny, a quick charmer, a slick-tongued hustler. It also means not taking shit from anybody, being politically incorrect, and having a big pair of balls. These are traits the left-leaning hipster agenda is happy to support – opportunistically, whenever they happen to support their causes.
In a profile of the young and amoral Odd Future collective, a Pitchfork contributor wrote that they should "Continue on, undeterred by the demands of the mainstream's social mores and face the wraths of conservatism," or else "change up and burn away their hard-earned integrity". Free speech, thumbing their nose at the man (I ain't a part of your system!) – causes near and dear to any hipster's ironic-American-flag-tee wearing heart.
But what happens when that "hard-earned integrity" starts butting up against other hipster values? Let's face it: while LGBT awareness runs deep in the hipster community, you're not likely to see large sections of "old working class New York" turning out for the Rainbow Coalition, and gay pride parades aren't exactly "raw Queens charm".
When that happens, what comes about is a morally confusing cycle of praise and rebuke: Bronson, Odd Future, and others like them are applauded, praised, and promoted by hipster tastemakers for their authentic voices; but as their media profile grows, so does the pressure for them to become inauthentic to the same roots that they were praised for staying close to. So Pitchfork and other outlets like Vice, Vulture, Fader, (I'd say Rolling Stone, but since when were they relevant?), and the like praise the "Talented, hilarious, villainous, immature, precocious… vanguard of modern hip-hop" – but when these artists turn out to resemble the people they rap about – the performing monkeys have escaped from their cage. And those same outlets scramble to distance themselves.
It seems that hipster media has confused "sounding grimy" and "being authentic" – they love the first, and find the latter distasteful. They love hearing raps that push the boundaries of acceptable behavior – slapping bitches, disrespecting gays, selling drugs and pussy, living rough – but don't want to acknowledge the social reality that, for some people, this is life. So they stay in their bubble, listening to music that hints at a morally and socially frightening world, while being able to ignore its realness – until that realness pops up on their Instagram, Twitter, and Facebook feeds.
Is Action Bronson's man Bes throwing water on a Mexican tranny "reckless"? Sure. But it's hypocritical for the hipster/fringe-culture-glorifying music press can call it "lame" – when rapping about this lifestyle is exactly how he earned cool points with them in the first place.
"Queens shit. That real rap, homie. None of this relationship drama rap these faggots be putting out nowadays" – Action Bronson, Respect the Mustache.
–Jason Chu (@jasonglchu)
Not a homophobe at all, I'm just surrounded by 'em