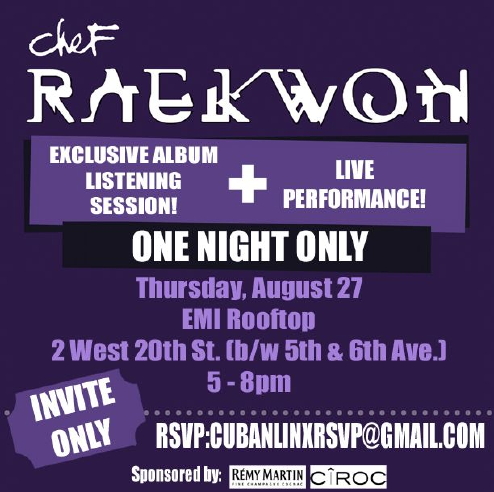 Getting this invite sent to me was like getting my birthday present exactly one month before my new year.
I'm an unabashed Wu stan and we all know that.
It's prA'li my dream to be buried with my purple tape.
So it's no big deal that I super stan out extra hardbody for Raekwon and Ghostface. These are the dudes that were my age and saw some of the same things that I saw. They described them in a way that my mind's eye could immediately register. The Wu-Tang Clan was my escapist cinema soundtrack.
Enter The 36 Chambers – This was me and my dudes staying out late going to see karate movies on the Deuce in rundown pissy sensimile smokefilled theatres. Shaolin Avengers, Flying Guillotine and anything from the Shaw brothers. The Deuce was the livest shit I had never seen. people were fighting and pulling out guns and trampling each other. And when I snuck back out to 42nd Street the following weekend to the chagrin of my dad I found out that they were doing the same shit all over again. I was transformed. Hail Meg!
Return of The 36 Chambers – Ol' Dirty Bastard is the one Wu member that I connected to the most. He was the most spiritual dude ever in rap music. I think he contained a part of every Clan member in his persona. Dirty would get wild. Dirty would get crazy. Dirty was filled with love even for people that didn't love him or understand him. Dirty had compassion for humanity. Fuck that, Dirty was a Black man. This chamber is my Blaxploitation period. The movie this album describes is Coonskin.
Only Built 4 Cuban Linx – This was the greatest album I had ever heard. From the rhymes to the beats to the song interludes there was never an album in Hip-Hop that did the shit the purple tape did. Albums were only filled with songs. This album was filled with stories. The interludes offered narration to bridge the chamber's chapters. The new album Only Built 4 Cuban Linx 2 is great, but nothing can duplicate this album in my life. The words and music were pulled right up off the concrete on the streets. Those were my dreams to have remarkable cream. They still are. Word to ThunderCracker. Rest in power.
On the rooftop of his record label's Manhattan offices, Raekwon the Chef spit some of his Wu classics and some of the new hot shit from the Only Built 4 Cuban Linx 2 project.
As the sun was setting for the evening the sky in the background became purple.
I think that was Ol' Dirty blessing this project that appears to be re-uniting the Wu.
Wu-Tang is 4ever.
Suuuuuuuuuu!
RAEKWON – ONLY BUILT 4 CUBAN LINX 2 PROMO CONCERT from dallas penn on Vimeo.