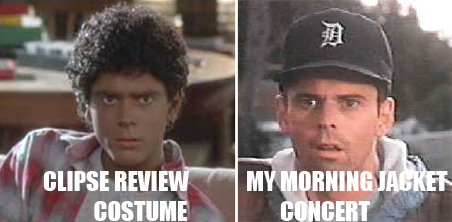 Editor's note: COMBAT JACK is a good friend to the site and has an unquestionable Hip-Hop pedigree. CJ is always good for a perspective that I may have overlooked when you talk about Hip-Hop music, its art and its direction. I treat COMBAT JACK like E.F. Hutton, when he speaks, I listen. Yoda from Dagobah said that the most intelligent speakers were also good listeners. Y'all should listen up close because I think we may have a faker in out midst. TOM BREIHAN is the main music critic for the Village Voice and a bevy of associated music publications. The power and prestige contained in being the pre-eminent pop culture music sage might be too much for this writer. He was a welcome change from the heavy-handed, and severly dated ROBERT CHRISTGAU who had become such as his namesake, at least in his mind. It seems that BREIHAN's excessive collection of Clipse mixtapes is making him think that he can have it both ways without being respectful to the real place that Hip-Hop comes from. The soul.
"You little wigsters ain't deep, you dumb" or why Tom Breihan is Hip-Hop's Most Dangerous Blog Critic
A couple of years back when I was winding up my law office (2003) in the music biz, a white rapper who wanted me to shop his demo to labels stopped by my office. He had sent me his package(nullus) a week earlier and on the strength of what I heard, I felt his material wasn't strong enough for me to compromise my rep by peddling his weak shit. Trying to be as diplomatic as possible, but intent on conveying to dude that he had to get his weight up before he was ready to step into the arena, I expressed to him that he needed work. Like one of those lil' rude, spoiled kids I see in Park Slope who can't get their way, dude immediately got all aggie and animated, aggressively asking me who were my top five emcees. "B.I.G., Rakim, Jay Z, Nas, Yung Ice Cube, Yung Big Daddy Kane and Yung K.R.S. 1" was my response (I know, that was eight). Dude then asked me who was some of the acts I thought was on fuego at the moment. I answered "Eminem, Jay Z, Nas, Fabolous and The Clipse". Dude got even got more amped and replied that I didn't know shit about Hip Hop. He went on and on about how cats like Company Flow, Cage and Ill Bill (who I have appreciated at times) as well as some other mad underground cats were bringing that heat, how labels like Bad Boy were a cancer to Hip Hop and even implied that I wasn't qualified musically to shop his music.


I guess seeing a Black man in a suit sitting behind a desk didn't fit his preconceived (prejudiced?) one-dimensional notion of what a true Black Hip Hop head should look like and I was summarily dismissed as not being down (although I doubt he would recognize me later on that evening in Brooklyn, dressed in a fitted, Air Max and a hoodie). I was pissed the fuck off that this lil' effin' wigster (wigger + hipster) had the fucking audacity to interrogate me in my own office about the validity of my "ghetto card", like I needed one. Although I immediately felt compelled to pull off one of my Gucci loafers and pound the effin' idjit out and about, I maintained my cool composure. I explained to him that I was on my way to a meeting with Puffy (which I was) and when he backed down and sheepishly asked, no, begged me to pass his CD on to Mr. Combs, I gleefully told dude I'd never want to shit my connections by passing out a sub-par cRap package like his. The broken look of defeat on his face was priceless, however the impact of said encounter never left me. Of late, Tom Breihan's recent posting's about today's current state of Hip-Hop on his Voice Magazine dot com sponsored blog "Status Ain't Hood" so effin' takes me back to that encounter.


I initially liked Status Ain't Hood when I started peeping it about a year ago cause it seemed like dude had this innocent lil' wigster appreciation of all things music, especially Hip Hop. Like all bloggers I respect (like Bol, DP, Different Kitchen, Nah'Right, Tribute To Ignorance, and Oh Word to name a few), I didn't always agree with dude's opinions, but he always managed to express his views in an unbiased and somewhat reverent manner, especially for a white boy. His posts also helped me further understand a wigster's point of view about Hip Hop music and Black culture. I was totally amazed and applauded his and his fellow lil' wigster's fascination with the ever amusing Dip Set movement as well as his/their unwavering appreciation and support for Ghostface and The Clipse's underappreciated talent, even crediting them for indirectly influencing the music biz to at least make the gesture of giving these acts the respect and opportunities they deserve. Recently however, I started getting the feeling that Tom was getting a bit too familiar, flagrant even, with his status (I bet he's a hit at all his lil' wigster parties).
I noticed a few months ago that Tom appropriated and started experimenting with Byron Crawford's word du jour "ninja(s)" which is a clever (and somewhat politically correct) play on the word "nigger" on Byron's part. It's a different word, but close enough to make the point. I was a little taken aback when I first read it in one of his SAH posts, but felt that dude, being the good writer that he is, didn't want anything lost in translation. I continued to hear him the next couple of times he used it, but wasn't really cool with it when he got comfortable with it and using it more often. Like I said, "ninja" is a wholly different word but that shit is too effin' close boy.
Reminds me of when I interned at Def Jam years ago and the resident wigster at that time MC Serch of Third Bass fame, when building with cats like the homies Bobitto and Curious would drop the "N" word in my effin presence like it was nobody's business. Had I had some clout then, I would have seriously checked dude, but I let that shit pass several times because, 1) I was green in the game 2) Russell Simmons, my boss, who always seemed to favor the jew cats around him didn't seem to mind. He actually thought that shit was cool since Serch was his pet white boy of the day, and 3) I didn't want to play out a scene from Dave Chappelle's "When Keeping It Real Goes Wrong". I've since reconciled with Serch because he's really not a bad guy and he happened to be a young, hungry wigster rapper who didn't have a full understanding of the context of the word and how if said around the wrong (right) people, he would have gotten his fat jewish ass kicked from here to Albuquerque.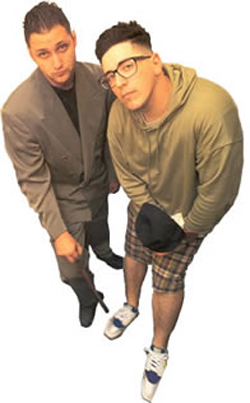 In addition to his frequent usage of the "N" word, Breihan, like all these lil' "eighties baby" rappers eager to jump on the bandwagon in an attempt to be first in snatching Jay Z's crown to prematurely achieve "King Status" has quietly proclaimed himself to be "King Hip Hop Blog Critic" by joining the mob frenzy in his mad subjective and negative posts about Mr. Sean Carter as well as his just plain stupid views about today's state of Hip Hop. In the past two and half months, Tom has matured from being a young, harmless lil' wigster with a great sense of wide-eyed respect and appreciation of the arts to a full grown white boy aware of his white privilege and the white man's burden to have say, control and dominion over all things
regarding ninjas .
Peep his steez…
Jay-Z Is Afraid To Fight
Where he disses Jigga for not participating in the latest edition of that bullshit ass video game "Def Jam: Fight for NY". Real talk Hip-Hop fans, if you were Hov, the president of Hip-Hop's defining record company would you lower your self to such idiocy?
Pitbull: Better Than Nas
Where he proclaims in his title that Pitbull (effin' Pitbull?) is better than Nas but makes no attempt to justify his ignorant and incorrect postion.
Jim Jones Obliterates Jay-Z
In this post he gives a literary handjob to Jim Jones's Johnson (no Sickamore) for "obliterating" Jay-Z in their skirmish a couple of weeks back.
Jay-Z: Rap's Joe Lieberman
Breihan credits the 700k + sales of Jay Z's first week solely to his promotional campaign as well as Jay marketing to cats outside of his core fan base. To quote Breihan, "If Jay had to rely on rap fans and rap fans only to sell records, Kingdom Come might've disappeared the way the vast majority of 2006 rap albums have. So he reached outside, and it worked. Good for him, I guess."
And finally, this most recent rant…
Lil' Wayne Attacks Jay-Z
Here he figuratively tongue kisses Lil' Wayne in the mouth all Birdman style by claiming Weezy is now better than Jay Z. Really? Um, no Weezy Eff Baby.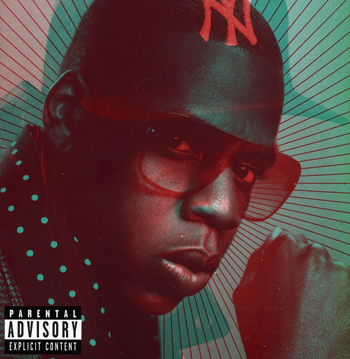 Don't get me wrong, Kingdom Come wasn't the greatest Jigga album, but it wasn't the shit sandwich like Tom (and Bol) claim it to be. The reason Bol gets away with it is because I (nor any of his readers) wouldn't expect anything else from him, being the brilliant perpetual hater that he is (no stray shots). Tom however, is no Bol. And contrary to the wigster's ignorant opinion that cats like Jay no longer matter to young cats in the 'hood, I've had mad engaging conversations with many a young soldier (under 18 years of age) posted up on the corner of Nostrand Avenue and Fulton Street at the spot where I cop my beef patties. These young dudes proclaim Jay to still be one of the hottest cats to ever do it, even though they felt KC was a bit too grown for their liking they did rant about his recent freestyle "Corporate Takeover".
NEWSFLASH Tom, in the hood, some young cats respect Weezy and are amused by Jim Jones but would NEVER compare them to Jigga. NEVER!
My father in law, who was a record producer in the 1960's and won a Grammy in 1990 that now sits on a mantle in his Brooklyn home, used to get pissed the eff off with me whenever I used to tell him that Eminem in his prime was one of the most incredible emcees evar Black, white or green. Because my father in-law came up around the Elvis Pressley era where most cats like me would be hanging upside down from a tree with a fork in my ass (no KKKramer), he's always going on about how back in his day, when Brothers were deeply rooted and recognized as the inventors of rock and roll (no Mos Def – "New Danger"), once the wigsters who were down decided to use their privileged status, they completely re-wrote the history of the genre, determining who and what was hot and eventually running all things rock and roll (and eventually all the "ninjas" out). He's always warning me that the same shit will eventually happen with Hip Hop. I used to dismiss him as being an overly political Black man too caught up in the racial injustices of his past. Like that whack white rapper in my office, Tom's posts of late are eerily convincing me that pops in law might very well be on to something.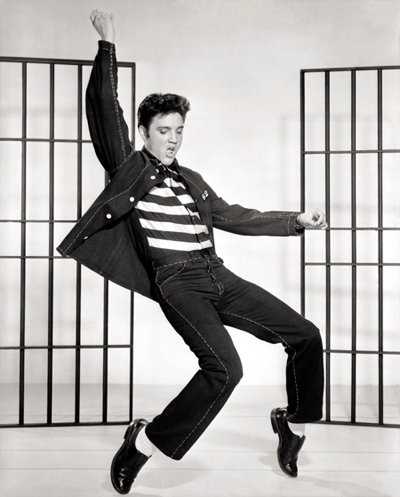 Tom, if you happen to be reading this, trust me, you're really suspect right about now. Don't allow your Village Voice and wigster privileges delude you into thinking that you're like some white cop that can freely walk in and out of this hood unscathed, brazenly shooting your random 50 shots at cats and carelessly dropping kaa kaa just because you're so kewl. No Sean Bell. Oh yeah, it's also damned annoying (coincidence?) that whenever I want to respond and post a comment about your continued wigster ignorance, not only do I have to go through some bull shit sign up registration process, but my post won't appear until about a day later when you've most likely moved on to your next post, thus taking away the full sting of harsh and valid criticism unlike most "Hip Hop" bloggers thugging it out on the frontline. Sheet, even XXL doesn't afford their writers the same level of bullet proof protection that you wigsters get over at the voice.com. Now don't get me wrong, I'm not on some X-Clan, Al Sharpton shit, that's really not my style. I'm all for racial harmony and what not and I'm in no way hating on you dude. Sheet, if I ever run into you at one of those Friday nite wigster events at South Paw I might give you some dap (hood style) and even crack some brews and discuss all things music. However, you might just want to consider slowing your role and start showing some effin' respect to the "real rap fans" out here as you so aptly put it. Until then, I rebuke you lil' wigster!
Oh and yeah, the one thing that you're consistently right about in your posts is that your status definitely ain't 'hood.