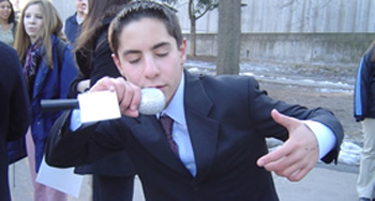 I believe it was NOZ from Cocaine Blunts & Hip-Hop Tapes who suggested that we start a cRapper Fantasy League feature since we spent so much time speculating on the 'what ifs' contained in the music industry. Like what if DAME DASH was on the plane with AALIYAH? Would Jay-Z and Jim Jones have hugged each other at his funeral? There are a million billion ways to extrapolate theories in Hip-Hop and we here at DP Dot Com only believe in using empirical evidence to get to the truth. The cRap Music Fantasy League will go a long way to proving who is the G.O.A.T. once and for all.
Each player will start their own fantasy record label with the profits of money made from the crack trade. Actual victims of crack cocaine are not necessary since this is of course, cRap music, and not the real world. Each label may hold eight cRappers. DipSet and G-Unit do not count as one cRapper. If a player(label) decides to drop a cRapper they may pick one to replace that roster slot. Points are awarded to labels whose cRappers end up the news for any variety of reasons. From record industry achievement to criminal activity everything scores points for your cRapper in the cRap Music Fantasy League. The official league play kicks off January 1st, 2007 but if you want to get down you should set up your label(team) now in advance.
Here are the rules…
The game is open to all whether you like cRap music or not
Each label has eight roster positions. If a cRapper is killed the label owner is awarded points and may replace that dead cRapper with a live one. If the dead cRapper is retained by the label and continues to make news stories that label will receive points
labels may select deceased cRappers
Once a label drops a cRapper from their roster they cannot reacquire said cRapper
Points will be awarded to labels whose cRappers reach certified gold and platinum status for their album releases
Points will be awarded to labels whose cRappers sign record, merchandising and or marketing deals
Points will be awarded to labels whose cRappers are arrested for anything from firearms and narcotics possession, to tax evasion, to domestic battery and assault charges
Points will be awarded to labels whose cRappers weedcarriers die, but only one W.C. death is eligible for points(i.e. if the balance of D-12 passes away tragically Eminem only receives points for Bizarre)
I'm sure theres gonna have to be more rules than these, but the main thing for you to do is to get your label(team) together. Holler black if you are down to play.