REGGIE and Pops
I'm excited for the upcoming season of Major League baseball for a bunch of reasons. It's the sixtieth anniversary of JACKIE ROBINSON's entrance into the majors, BARRY BONDS will likely become the new all time home run leader, the Mets will pwn the league, and the whole human growth hormone has been silenced ever since it became apparent that the entire league was on it (read: beloved WHITE athletes). I even joined an Internets Celebrities roto league. Looks like good times all around this summer.
This drop was inspired by OSCAR GAMBLE's favorite website on the internets, Passion Of The Weiss. He had the idea for giving a shout out to MLB's greatest moustached mavericks and mavens. Don't act like it was only porn stars that sported the ridiculous facial hair from our youths. Baseball players were the real mutton chop superstars. From LUIS TIANT to MIKE SCHMIDT, seventies baseball was all about crappy polyester uniforms and personal style below the nose.
The Californian teams in the big leagues were certainly the fashion forward leaders in the facial hair movement. The San Diego Padres alone could field an entire squad of facial hair Hall of Fame players. Add in the Angels, the A's and L.A. and you've got yourself a mountain of moustaches. Combine that with some of the greatest afros evar and you are talking about a follicle apex for American culture. When steroids and HGH came into the great American pastime hair would never grow the same. But I'm not into placing asterisks over afros…
Here's the DP Dot Com list of the facial hair Hall of Famers…
GEORGE FOSTER
By the time he came to the Mets after his years with the Big Red Machine GEORGE's bat didn't have the same pop, but hotdamnit his moustache sideburn connection was still on some official 'grown man in the club' status.

---
DOYLE ALEXANDER
Dude needed more than his sideburns to cover those sonar scoops he had for ears.

---
CECIL COOPER
I gotta make sure I put one in for LM so he doesn't retract his sponsorship.

---
GREG LUZINSKI
Chicago native GREG put in crazy work with the Philadelphia Phillies, but he could still bring it in his Chi-Town uniform when his drunk ass made it to the ballpark. Just like another of Chicago's favorite sons and longtime DP Dot Commie, P-CITY.

---
AMOS OTIS
This one is para mi amigo grande en la Ciudad de Kansas. AMOS was all about bringing shaft back to baseball.

"Shut Yo' Mouth!"

I'm just talking about OTIS' batting skills.

---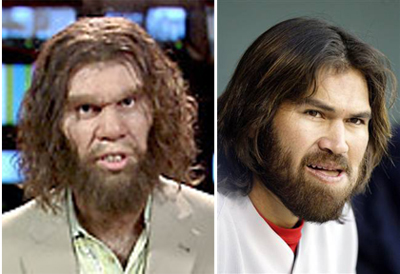 JOHNNY DAMON
"So easy even a caveman could do it"
DAVE WINFIELD
Did y'all cats know that DAVE WINFIELD was drafted by a pro football team despite the fact that he never played a single down in high school or college? And CHARLIE effin' WARD wins a Heisman but didn't get a single call. Facial hair = draft day hype.

---
ROLLIE FINGERS
ROLLIE was without question one of the greatest to ever do it. His Snidely Whiplash moustache should be telling you that much.

---
OZZIE SMITH
The Wizard of Oz was stylin' on fools from the moment he came into the league.

---
GOOSE GOSSAGE
San Diego damn near had the entire facial hair All-Star squad. GOOSE GOSSAGE was just a big ol' burly country boy who threw fire from his fist. Nothing subtle or sneaky in his repetoire, just fast, and faster.

---
DAVE PARKER
Can you imagine his gaudy career numbers if big DAVE PARKER had played during the steroids era?

---
STEVE BEDROSIAN
STEVE reminds me of MICHAEL McDONALD. Remember that Yacht Rock hit song that STEVE and KENNY LOGGINS made together? Yeah, it seemed like only yesterday…

MIKE SCHMIDT
Show some mother effin' respect to the Jewfro when you see them on the streets.

---
BRUCE SUTTER
There's no relief in sight from the gangsta of homey's birdnest beard.

---
REGGIE JACKSON
The big homey had his own candy bar.

---
RON CEY
I'd swear that he retired from the Dodgers to do porn with his moustache.

---
DON STANHOUSE
DON pimped his matching afro and moustache style all the way into the 1980's.

---
OSCAR GAMBLE
OSCAR is the G.F.H.H.O.F.O.A.T. of this shit. Right off the bat take into consideration the fact that his initials are O.G.

The sideburns and nappy moustache are official, but the afro is straight up on some HGH. That's word to Oh Word!

---