I opened up my homey's website TONY's KANSAS CITY yesterday only to find out that the Jigga Man is now balls out ghey. There were always the rumors about him and his weedcarrier manservant MEMPHIS BLEEK having a personal intimate relationship, but I ultimately poo-poo'ed that shit away because you how people can get more jelly than a bottle of crushed grapes. But if TONY is writing about rap music in any manner then I need to peep the shit he is saying.
It looks like Jigga and Kansas City Chiefs running back LARRY JOHNSON are sharing an apartment in the midtown Manhattan luxury high rise Trump Tower. They apparently like to share each other's clothing and JAY has taken to giving LARRY some brotherly advice about his modeling career as well. LARRY even gets to wear JAY's Roc-A-Fella necklace on occasion. JAY and LARRY also have New York Yankee DEREK JETER as a neighbor. My only problem is that three light skinned brothers with no moustaches always means trouble.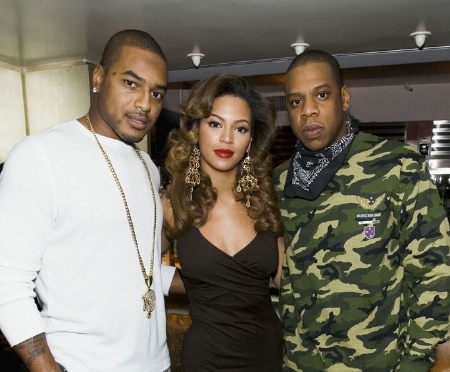 All that teh ghey talk has to be unfounded internets rumors because I see all kinds of pictures every three or four months of JAY-Z and his friend BeYONCE on vacation somewhere expensive. Plus I see the two of them at basketball games together and other places. If JAY-Z were really teh ghey with LARRY JOHNSON how come he doesn't take LARRY on vacation with him? I never see JAY and LARRY at Nets' games either. At least EDDIE MURPHY would occasionally take JOHNNY GILL out to dinner. Yeah, there's no way that JAY-Z could be teh ghey with a chick like BeYONCE and her freak'um dress.