What good are the internets for if we can't come together and aggressively debate nonsense?
To that extent I thought I should introduce a new feature to this site where we highlight the spirit of competition and achievement. One of the greatest attributes of Hip-Hop has been its ability to reconfigure the meanings of word. Bad now equals good, while nigger now means tomato, or some other sort of vegetable.
The word pimp formerly referred to a predatory confidence person who would intimidate and terrorize young women into becoming prostitutes for him. The new Hip-Hop meaning for the word pimp refers to someone who utilizes their charisma in order to convince the system of capitalism to subsidize their lifestyle. In this manner the pimp makes capitalism work for him, instead of the other way around.
I think you folks will catch on to this shit once we get underway. Let's go in…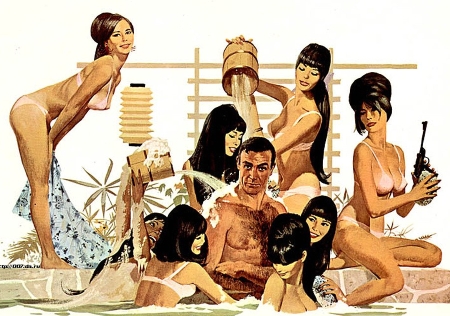 JAMES BOND
Some of you might consider James Bond the ultimate pimp since he had the British government tricking on his expense account with not just the ultimate in five star accomodations, but also with, er, yeah, accoutrements. Bond always had a mean piece of foreign poontang on his arm and a gun with a silencer in the other hand. Money was no exception since he had the British goverrnment bankrolling his moves. You know the Brits lent money to GOD to pay off his college loan right?
James Bond has crashed more expensive Italian sportscars than ALLEN IVERSON. He always comes out with a crazy gadget that somehow shoots bullets. I think that is the reason why everyone loves Bond so much. He is the symbol for virility. What exotic piece of tail hasn't been with James Bond? From luxurious Mediterranean meat to prophylactic Persian poontang, Bond has seen it all. Dude even caught an STD in Brazil just to say that he went there.
Here's the tale of the tape for James Bond…
JAMES BOND
Over 20 motion pictures grossing $10B worldwide
Portrayed by eight(8) diffferent actors
Product placement deals for BMW, Aston Martin and Bentley automobiles. Rolex and Omega watches
Automatic handgun with silencer
Unlimited expense account
exotic female companions – Pussy Galore, Plenty O'Toole
Off the rack tuxedos
James Bond looks like a runaway favorite until you consider this James…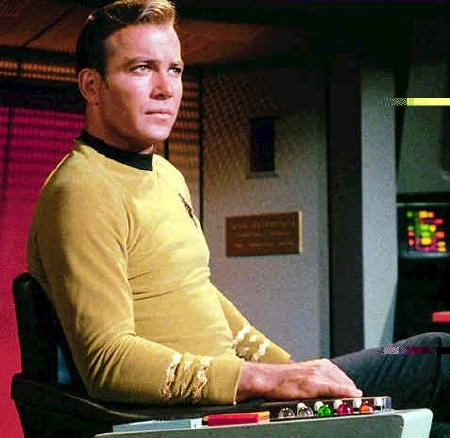 CAPTAIN JAMES T. KIRK
While James Bond's international pimp hand was undeniably strong how can any of you front on the intergalactic pimp prowess of Starfleet captain James T. Kirk? Here is a man that took pimping to the outer rim(no 2girls1cup) and back again. Forget hairpin turns and high speed chases, this man was traveling at warp speed factor 9. That's faster than light bitches.
By the time Kirk comes on the scene in the 23rd century there won't be too many Black folks left. There's a blind Ten Speed and Brownshoe and another brother with a turtle shell on his forehead, and one super-fine chocolate sister. Rumor has it that Kirk teleported to Uhuru's Uranus. You can't knock this man's hustle either. If it has at least one vagina Kirk is gonna try to smash it. He was hitting stuff no matter what the color. Black chicks could get the captain's stick like good money. Kirk was even smashing action the color of money. Green-skinned, antennae having broads got it too.
While Bond rocked some gadgets that were borderline absurdist fantasy the entire crew of the U.S.S. Enterprise were the first cats on the streets with the flip phones. James Bond could certainly bust off with his silencer equipped Beretta, but who is fucking with a phaser that could straight vaporize niggas?
Like my homey The John said, "Anybody can bag broads wearing a tuxedo, try scooping up the ladies wearing tight wool pants and some go go boots." True.
JAMES T. KIRK
Billions of dollars generated by the Star Trek franchise
Portrayed by only one actor(regettably)
Inspiration for electronic products such as laptops, PDA's and cellphones, notably the Motorola Star-Tac
phaser gun with stun and disintegration capabilities
The 24th century bitches
exotic female companions – Elaan (extra-terrestrial), Rayna Kapec (android)
Middle name is Tiberius