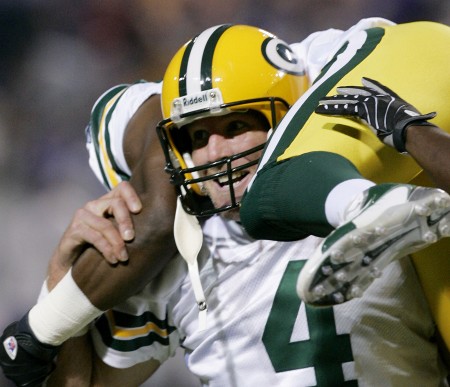 Editor's note: 40 Diesel gets the DP Dot Com family hyped up for the 2009 season of "Not For Long".
I hate this time of year in regards to sports, there's nothing popping at all. I root for the Amazin's, and I'm glad to see them get to first place (much to the demise of Brownsville's WILLIE RAN), but I'm not gonna front beisbol is like a distant fifth in sports interest to your dude. My other love – GOLF is on a serious back burner, since EL TIGRE is laid up on IR and its not as much fun with him out there rattling people's cages. So until the Olympics kick in providing a respite from the doldrums of sport, I have to keep my eyes on the start of NFL camps and prepping for the greatest sport of them all. News of NFL training camp has always been a bittersweet moment. It signals the start of my favorite sport, but is also signals the death knell for summer. These NFL camps got off to an interesting start with the impending "un-retirement" of Mississippi's own BRETT FARVE. Seems like ole #4 can't just seem to hang them up, and like most vanity driven athletes/celebrities realized that "they just can't leave it alone, the game needs me!!!"
The problem is this Brett, other than your ego – YOU HAVE NO REASON TO RETURN!
Much like MICHAEL JORDAN pushing off BRYON RUSSELL to hit the chip-clinching shot, you couldn't pick a better season to retire off of. Going an unexpected 13-3, The Pack threatened the NFC for a Super Bowl birth and over the course of this season Farve broke DAN MARINO'S records for Passing Yardage and Touchdowns. With the new found running game led by RYAN GRANT, and the ever patient AARON RODGERS waiting in the wings, it looked lovely in Lambeau. FARVE retired on great terms, and set up his beloved franchise of a decade and a half in great shape for the future. All was well in the NFL's smallest market, in fact the NFL loved FARVE so much the set up his jersey retirement ceremony on one of the biggest nights of the season – the 2008 regular season debut of Monday Night Football, at Lambeau against long time division rivals the Minnesota Vikings. Pretty much perfect…. NO?
NOPE. Brett got antsy and is getting his best "Mama Said Knock You Out" on and is calling it a comeback, for the third offseason/preseason in a row, and because of this I'd like to nominate him for a DPdotcom "HO SIT DOWN!"
Why? Brett you're old. Know when to leave the party. Think about NAMATH as a Ram, MONTANA as a KC Chief, EMMITT as a Cardinal, MJ as a Wizard, post-Black Album JAY-Z… Outside of jersey sales there is nothing memorable about people sticking around longer than they need to. Do you not know you're tempting fate by coming back and sullying what was a great career? Brett we've ignored your addiction to pain killers, the fact you have the career record for INTERCEPTIONS, and other less memorable facets of your career, but this one is quite inexcusable, and dare I say disrespectful to the NFL. I've always admired that the NFL made sure that no individual player was ever greater than the league itself, but Commissioner ROGER GODDELL is effin' up on this one. Its over my man, you had a great run, but now you're coming off like a bitter ICE-T, hating on SOULJA BOY.
So in closing, Brett…
HO SIT DOWN!!! (Please)