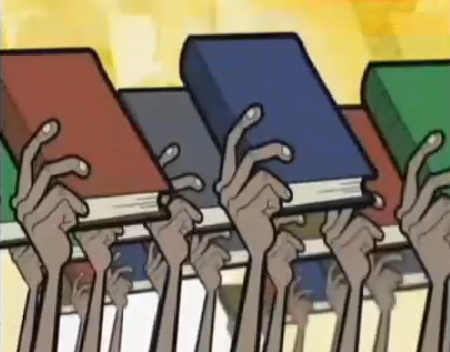 When it comes to throwing Kanghey Zest under the bus that is usually Bol's lane but today I had to put 'Ye on blast for the interview here at the X-spot featuring him and his self-help guru Sakiya Sandifer.
Kanye West, Between The Sheets Lines
The crown of the interview is when 'Ye is asked what might have been the influence for his book's graphic layout. It seems the book uses a format similar to Saul William's 'Said The Shotgun To The Head'. In truth the 'Ye book doesn't remark the Saul William's book to me but it is more reminiscent of 1970 modern ad propaganda. When confronted with the question though KanYe bristled.
"You know what, I'm not familiar with no books. I don't know no books, dead ass."
Relax KanYe. Sure you know from books. Why else would you write a book anyhoo? You obviously recognize the power of words to inform and TRANSFORM people's lives so you decided to put your words on paper so that people could read them and invoke the words that might help them have success in their lives similar to yours. That's called a book playboy. Accept it and embrace it. The idea of writing informational shit down is one of the pillars of civilization.
I don't understand how you promote a book you've written by telling people that you don't fux with books? I would hate for someone famous to be promoting a music CD of them rapping when they say that they don't listen to rap. Something like a Joaquin Phoenix. "Does anyone make real shit anymore?!?" is one of my favorite lines when I witness pop culture doppelgangers at work. KanYe almost becomes one of the people that he rails against.
I think KanYe has some kind of beef with Saul Williams. Ever since I heard that song 'Never Let Me Down' that featured a bootlegg Saul Williams poet I thought that 'Ye and Saul were diametrically opposed to one another. No wonder he got peeved when he was associated with swagger jacking Saul Williams graphic design. KanYe is prA'li still feeling bruised for using J.Ivy to spit like Saul Williams on that college dropout track.
I remember when they were giving out the KanYe book at the end of the 'Glow In The Dark' concert. I liked that shit. It was colorful and all Murakami'd out. Simple and clear design. It doesn't really challenge you to overthink anything. It's like a compilation of daily affirmation tropes for the Hip-Pop set. I fux with shit like that. The book that pulls me out of my doldrums is the series of joints by Jack Handey called 'Deep Thoughts'. That shit is the best money you will ever spend on a book.
If you really feel like reading some shit take a look at these books also…
The Autobiography of Malcolm X by Alex Haley – What more can I say?
Hank Aaron: One For The Record by George Plimpton – The story of the summer that Hank Aaron endured prior to eclipsing the home run mark set by Babe Ruth. Hank Aaron is the most hardbody athlete of all time.
A Clockwork Orange by Anthony Burgess – Get the un-edited joint that has the ending that Burgess wanted the story to have. This is one of my fave all time joints. Them hooligans in London used to get it in.