I'm not a Kobe stan by any stretch of the imagination, but I will tell you this…
KOBE > LeBRON
Okay, my bad. That was stannish. Slightly lightly. Riddle me this tho' hoopsheads…
Kobe > Jordan?
In a few more years some of you may have to admit that Kobe Bryant was better than Michael Jordan.
The above statement looks like multi-tiered blasphemy today, but I'm asking some of you to consider a future where Kobe Bryant has won more than six championships and scored more points, and given more assists, and won more big games.
It will be ever so close tho' and decided by percentage points. I don't know math too tough so I'ma have to take out my crayons and the what not. Let's use what we got to see what we see true believers. -(c)Stan Lee x George Clinton
Kobe is becoming the Showbee we always knew he could be.
However, Michael Jordan remains the generational standard bearer because you can't count anyone who played in the tight pants era(Russell, Chamberlain, Magic, Bird). Kobe would have been just like Jerry West if he played in that era, but Kobe is in the Long Shorts era. In the Long Shorts era the team game is supplanted by the megastar. His journey has to be spectacularly singular. That's what the marketing division said.
Jordan was able to develop the ego to fit the Stern School of Athletic Business model. Kobe doesn't have the ego to match Michael Jordan's. Kobe walks alone off the court, but plays the team game when on it. Jordan takes a greater percentage of his team's shots and then buys everyone beer and hoo ers after the game. I could go and on with anecdotal facts about both players but I know why you fux with DP.com anyhoo.
The pictures and graphical shit.
Just know that one of these days you gonna have to give Kobe some of Jordan's wigs.
G.O.A.T. Longshortsmen Graphical Shit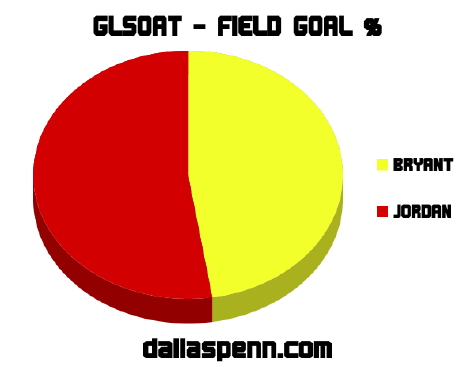 Jordan edges Kobe FG percentagewise and also takes more shots per minutes of playing time. Jordan is the one who ISN'T passing the ball.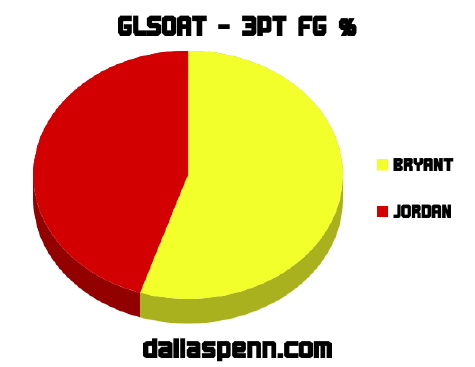 For the average of 3-pointers attempted per minute of playing time Kobe goes in from deep [ll] more than Jordan does. Kobe is slightly more accurate also.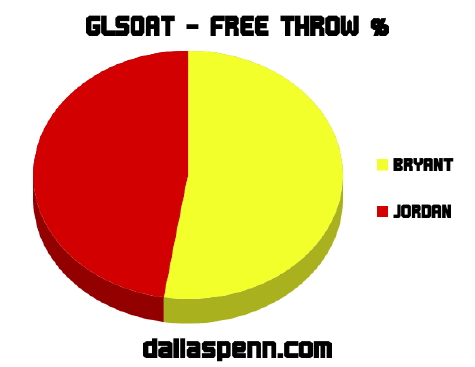 Kobe better FT shooter and averages more attempts per game.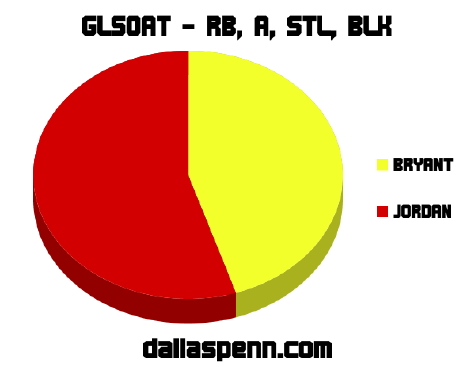 Push on the rebounds. Kobe on the assists. Jordan edges on the steals. Push on the blocks.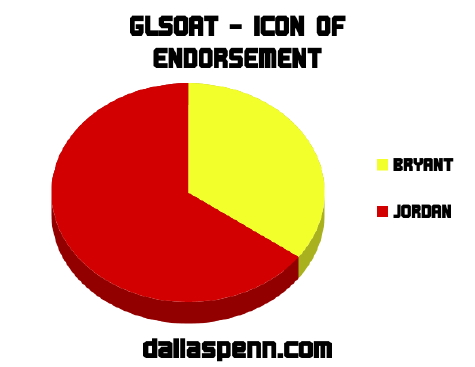 Jordan is a better corporate chump.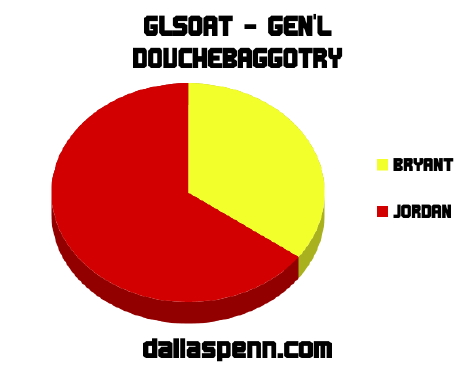 Jordan is also a major D-bag. I'ma let Chamillionaire tell it.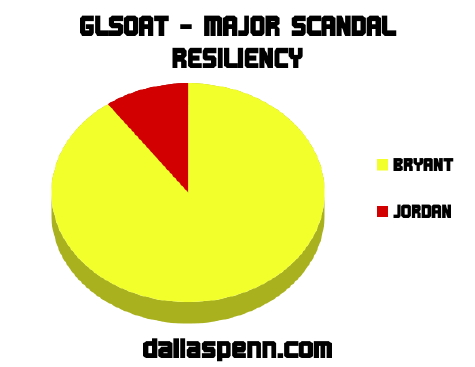 Kobe has better advisors. Michael loses a record amount to alimony and he wears a nazi moustache.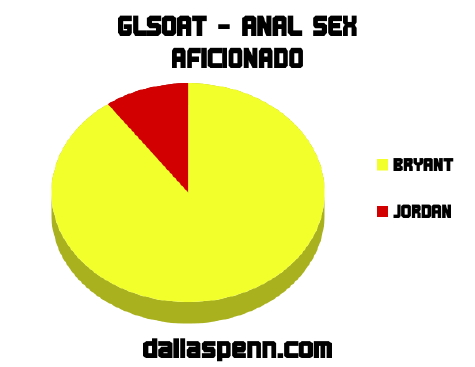 Kobe likes to stuff it in the poophoop [ll].


At the end of the day who cares about these assholes?
I've got a fux'n headache.