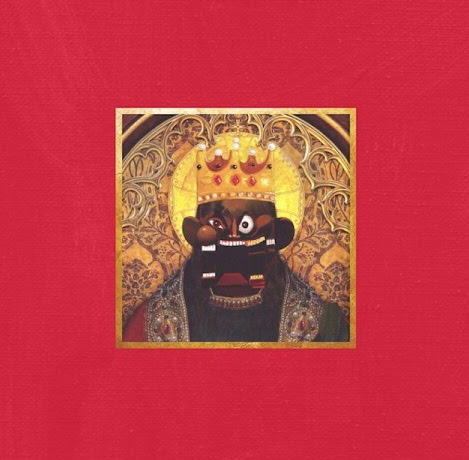 My album review didn't make the cut for AOL Black Voices so I decided to up it here at DP.com for those of you what fux with 'Ye Tudda…
Dark Fantasy
Can we get much higher? Don't be fooled by the angelic chorus because this is Kanye in his darkest chamber. Suicidal tendencies over the meanest drum program. This would be a beautiful ending, but this is only the beginning.
Gorgeous (feat. Kid Cudi & Raekwon)
The piano on this song reminds me of a shootout in a dusty western town.
Power (feat. Dwele)
Power sounds so incredible on this cheap ass Macbook I use. Nothing I download ever sounds this good on my computer. When Kanye leaked this song 10 years ago (FYI internets time: 1 month = 1 year) it was fire and it is still the shit that makes me want to do the Riverdance step. Kanye has entered the matrix.
All Of The Lights
Damn shun, this is the first time I even heard this song. Rap music just got a mosh pit again. Fake drums x synthetic horns = real dopeness. For those of you that live in or around Flatbush Brooklyn let me promise you that this song will be a pan favorite at J'ouvert 2011.
Monster (feat. Rick Ross, Jay-Z and Nicki Minaj)
Kanye merc'ks his verse but this song was the official coronation of Nicki Minaj as rap music's current queen. Any of y'all remember back when 'Ye claimed that Nicki Minaj was the greatest female rapper ever? I scoffed at that statement immediately. I feel like Kanye set me up on that one. He knew what he had in the can.
So Appalled
This album is getting ugly with features. Everyone is on their 'A' game. You don't want to go to the studio without your heat rocks loaded in the clip. I don't even mess with Pusha T like that, but now I'm gonna have to give him my ear (if he is on a Kanye track). I'm also gonna give Kanye's weedcarrier a pass on this track because at least he knows how to play his lane.
Devil In A New Dress
Aw man, I wish this preview copy had liner notes. I can't believe Kanye back on that soul ish. The guitar player has been killing these tracks.
Runaway (feat. Pusha T)
If you ever needed to tell someone "It isn't you, it's me. I'm the douchehammer." This would be your soundtrack. I'm also calling this Pusha's best verse for his life. Yeah I know, angry Clipse stans storm the DP.com server in 4, 3, 2…
Hell Of A Life
Punk pop electro rock Yeezy. I have to hear this song in the club. Is that a harpsichord?!?
Blame Game (feat. John Legend)
Beautiful track. The Chris Rock ad libs at the end are out fuxin' rageous.
Lost in the World
Do you realize that this song is going to be some tremendous world-beat jam? In Brazil, South Africa and even Antartica with the penguins you will hear this song.
Who Will Survive In America
Evolutionary verses from the master, Gil Scott-Heron. Kanye sees many herons, heroines and heroin. Heroin is the gateway to hell. Can Kanye save his soul?
He did it again. This dude is now five for five. If Jay-Z is the Michael Jordan of rap Kanye West is starting to look like the Bill Russell. I listened to the 'clean' version of My Beautiful Dark Twisted Fantasy and I feel like I lost something in the translation of what may have been censored. The tracks posted here are from the explicit version tho'. The philosophical meaning I take from the album is that 'Ye Tudda stays in conflict with himself and all the expectations and restrictions that others have for him.
This is the first rap album that delivers a soundscape with the richness of a Quincy Jones production level. It isn't just the flood of features from producers and musicians but the presentation of Hip-Hop as this global sound with no borders. The album belongs to no musical genre. It is punk rock and R & B all at the same time. The album has no country or nationality. It is American, Brazilian, African and European. My Beautiful Dark Twisted Fantasy needs no other label than 'Hip-Hop.