That dude in the pic above is my homey KyleStyle156.
KyleStyle is the dude that put me on into the graff lifestyle. Kyle brought me into the fold at this non-profit organization called ICRY which stood for Inner City Roundtable of Youth. ICRY would be all about getting graff kids public art projects. They wouldn't pay the kids but when you are 13yrs old you want a reap and fame way more than money.
KyleStyle156 def had a rep. He and JonOneFiveSix were the last top to bottom kings on the 1 line. I used to post up at Chambers Street to catch their trains going to and coming from South Ferry. I just re-connected with KyleStyle via the interconnected networks at Facebook. Here are some of the pics he uploaded to his page.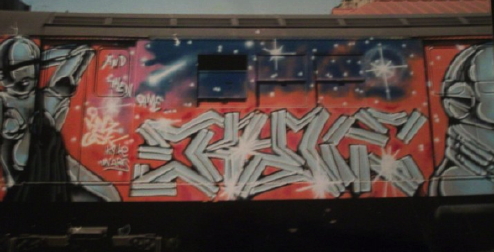 This was me rocking the jacket he did for me back in 1983. Thank you internets for helping me to respect the architects