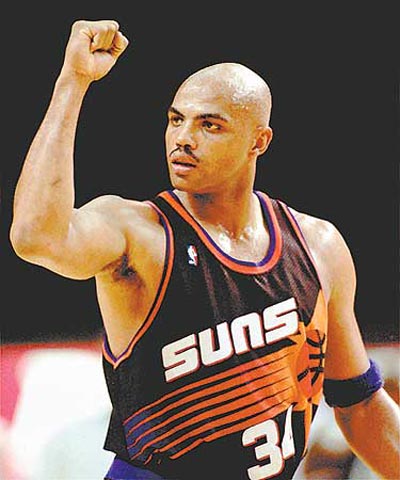 Happy Birthday Charles Barkley!
Back in the days in a time before lockouts. Long before every high school junior had to sign paperwork that declared he would be returning to complete his high school diploma and not opting out for the NBA draft. Well before the All Star game was synonymous with the police blotter. Way before 7pts per game, 7 boards and 7 turnovers could still earn you 7 figures. There was the CHUCKster.
For every bald-headed, over-priced-sneaker-wearin', baggy-short-sportin', number 23 wanna-be, there was the anti-JORDAN. Slightly rotund (read: fat), vertically challenged ballers had found their hero. He wore #34 for the Philadelphia Seventy-Sixers. He was more real than anyone swimming in DAVID STERN's primetime fishbowl. CHARLES BARKLEY represented more of the American ideal than any politician since JOHN F. KENNEDY.
He had a smile that could outshine MAGIC's. A work ethic that would exhaust LARRY BIRD. I will even place one of BARKLEY's trademark 'coast-to-coast, snatch rebouund from taller power forward or center, break out into dribble with behind the back crossover into explosive two hand flush with hang on rim swing' over anything from the Jumpman. Well… almost anything, except for the baseline headfake on STARKS and OAK to the super rise flush on EWING's flattop followed by the "nigga please" stareback. Even JORDAN fans had to admit that the CHUCKster represented that night in Detroit when he and LAIMBEER got down for the crown and went toe to toe.
My favorite season for SIR CHARLES was not that year when he first came to Phoenix. That's when everybody else discovered how special his game was and he won the league MVP. I remember a few years prior in Philly, it was the 91-92 season. BARK was always one of the top five in scoring, rebounding and field goal percentage and this season there was a semblance of a cast to hold him down. At the point was MAURICE 'MO' CHEEKS, a cagey veteran. JOHNNY DAWKINS at the two. The frontcourt was filled, and I mean filled by BARK and former Piston RICK MAHORN.
BARK said that he was happy when Philly signed RICK from DETROIT because now he didn't have the fattest ass in the lockerroom. At center was the inhuman shot blocker, 7′-6″ MANUTE BOL. BOL actually hit four treys in one game because BARK was telling him to shoot it. The sixth man of this fun team was the pre-VERNON MAXWELLIAN character SEDALE THREATT. SEDALE was just like JORDAN, but without the 'J'. These misfits rumbled into the Eastern Conference semis and found themselves up against a Chicago Bulls team in the middle of their first dynasty.
It didn't matter to me so much what the final outcome was (read: swept). BARKLEY's presence in the postseason was all of the validity that I needed to appreciate my own special game. If CHARLES never gets his elusive title he should still receive some kind of plaque for letting all the ballers in double-extra-large drawls believe they can fly.