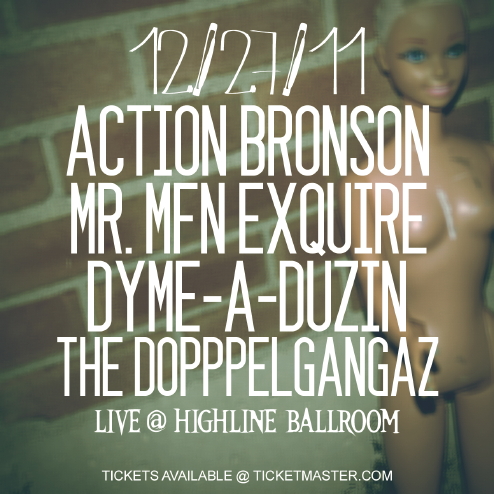 My homey from the Highline Ballroom asked me what concert would I FUX with if I had the chance to put a show together? This was a pretty simple exercise in thinking of the rappers who I'm fuxing with right now who don't get the eyeballs I feel they deserve. I slept on the idea and after my dreams I replied with a lineup I thought would rock the house…
Action Bronson is on the rise, but I still see people sleeping on this man's talent. The constant refrain is that Action is the white Ghostface Killah. I don't think those critics really study his style hard enough to give him his distinction. At this point I don't think Action really gives a fuck.
The next rapper whom I think needs a larger audience is Mr. MFN eXquire. No one knows exactly where to put him in their rap music playbook so he doesn't get the looks he needs to blow [ll]. This dude is bringing something crazy that hasn't been done before him with the Biggie Brooklyn swagger and the 2 Live Crew stage show.
Bigger than all of that is he makes good music.
We have been pushing the Meyhem Lauren agenda on this site for a minute now. Meyhem is one of the rappers I know whom I have rocked with on some regular nigga shit and he is chill as fux and just as accessible as anyone. This is an original NYC style to my mind. Meyhem embodies the idea I hold that rappers are regular people who do real shit and then rap about it. Nothing he does is to put on a facade.
As rap music moves into the pop music spotlight and further away from its working class struggle roots the genre still needs artists who are Timb-booted, hoody fatigued down. But not as a costume, as a lifestyle. Meyhem Lauren represents for all the cats rocking Polo, Levis, and Timberland as their everyday uniform.
The Doppelgangaz are my guilty rap pleasure. Even tho' they were really friendly towards me I didn't embrace their music until the Lone Sharks project. That's when I realized how dope and original they are. If you are stuck on their cloaks and their neo-Goth visuals you will be missing the best part about them. Their music.
The Doppelgangaz are the freshest shit on my iPod right now and I'm ready to rock out to this joint 'Like What Like Me'. The Highline Ballroom will be off the chain on Tuesday night. These are the rappers who got next. Catch them live at the Highline, the best music hall in New York City and end your year by scoring a major win.