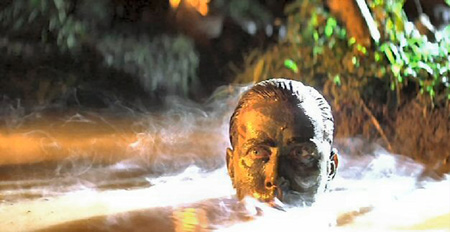 Editor's note: Combat Jack's reply that should have squashed all of the divisive language about 70's babies versus 80's babies must have fallen on the deaf ears of XXLonline's secondstring staffer Sickamore. So it looks like the kid has decided to step into the arena where grown azz men come to put in work. I wish people would get their minds' right and stop calling everything a hustle. Hard work isn't a hustle. Growing up in the world isn't a hustle either. A hustle is trying to make ends off other folks' backsweat. A hustle is trying to earn a living by selling something that you know nothing about. Leave it to Combat Jack to learn the youth before the apocalypse.
"Back In '88 When I Was Pushing Weight, You Was a Ballerina, I Got The Pictures, I seen 'Ya"
-quote from a "70's" baby
So the other day, I get this surprise e-mail from "THE 80's baby" over at XXL. Dude reached out on some squash the beef shit. Peep game…
Subject: Dude, lets just end this shit!!!

Date: 8/20/2006 4:15:32 AM Eastern Daylight Time

From: "Sickamore" [sickness@tmail.com]

To: combatjack@gmail.com

Dude, this shit has got to stop. Why you tripping on me man? You and I both know that my '80's baby shit is just a gimmick and I'm running with that shit as long as I can. Why can't you older cats have a sense of humor? Can I live? Even before your post on the internet last week, my boss Craig Kallman at Atlantic has been barking the fuck on me about my lack of decent signings on the label's roster and how I'm literally "1/2 a step from getting my nigga ass ejected the fuck out of the building". In addition, there's a rumor circulating through my circles that my boss over at XXLmag.com, Elliot "YN" Wilson isn't really feeling my recent posts, all double guessing whether he made the right decision to pay me monthly to write, and is even thinking about replacing me. Combat, I CANNOT AFFORD TO HAVE THIS SHIT CONTINUE OR BUBBLE UP TO THE SURFACE. PLEASE STOP ATTACKING ME. I NEVER DID ANYTHING TO YOU!!!!!!! I really thought about that Willie Lynch shit you dropped and you're right man, we shouldn't be beefing against each other. Yo, I know this real cool sexy ass coffee shop in downtown Brooklyn where, you know, we might be able to break bread, build, uh, maybe collab on some shit. My treat! Plus, they serve a mean Vanilla Latte with whipped cream and nuts!!!! Delicious! I'm thinking, yo, that shit would be ill if we did some Jigga and Nas, team up shit on some of my future posts right? ILLMATIC!!!!!!

On the real tho, I'm a nice guy and could really learn a lot from you about how shit went down before I got on in this music shit. You really can't blame a young nigga like me for popping his collar on some '80's shit. Maybe you did the same when you were coming up. Right? Btw, what do you think of Saigon's latest shit, hot right? I hear you about his picture on his myspace page, but yo, dude's chest is just so oiled up and massive!!! I heard that chicks dig that, plus it's only entertainment! Well anyway man, I'm trying to be on my grown man shit about this and am willing to let bygones be bygones. You're really funny and when we meet (I hope), I promise I'll put in a good word to Elliot about squeezing you in on the XXLmag.com roster. That would be hot, right? Anyway, if you're cool with this, please hit me up at sickness@tmail.com. Also, let me know if you know any hot artists looking for a deal, I could really use that shit right about now, nahmean? I'm looking forward to you reaching out CJ, that would be hot! Right? Come on man, let's do the damned thing. Peace,

Your lil homie (I hope),

Sickamore.
Sheesh, that shit made me feel a bit sorry for the young fella. I do know something about his track record as an employee, especially since his ex-boss Gary (a T.I.) at Beat Street Records in Brooklyn (a record store dude, not a label), used to personally complain ad nasuem to me about how dude was a really piss poor employee (dee jaying in the showroom and sweeping up the stock room). Gary even told me that in an attempt to boost dude's morale, even though Beat Street never had an effin record company, they used to pay him like $150 a month (on some fake "a&r" shit) to put together weak Beat Street branded mix tapes consisting of several whack local Brooklyn crap niggas that all sounded like a poor man's version of Jigga, just so the T.I. run store could maintain a good relationship with their younger black rap buying clientele.
Now, I really don't know where Sic's going with his e-mail to me, what with all this nonsense about linking up for some latte with nuts and "teaming up". Nullus on all counts. Dude, er, thanks but no thanks! Plus, you really don't have to go through the trouble of putting in a good word about me to your boss. But yeah man, I'll increase the peace. I really hope that shit works out at Atlantic as well. Plus, I'll do my best to turn a blind eye to your limited 80's baby gimmick. Do you man. I know my place, it's your turn scrap, you got the juice now. Plus, trust me son, I don't need to prove to you that I'm Black, not caucasian. I happened to come across this picture of you trying your damned best to impersonate a 70's baby? Uh, what's up with that Sic? Last I heard, Cazal's was strictly '70s dun, plus that shit is looking real suspect, what with the lite gloss all up on your lips and all (ewww!)
I don't ever remember real dudes rocking rims and wearing MAC lipglass like that back in the day. Come to think of it, that must be some the 80's baby shit you brag about. That is you in that picture right?!? I'll let you tell it.