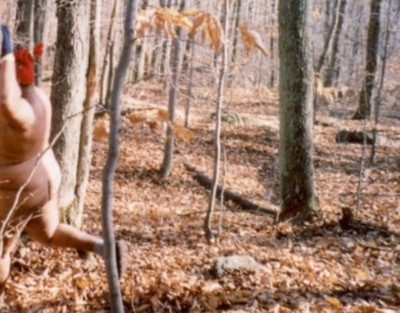 So you must already know that I have returned from my Adirondack Adventure to the city that I love to love. Ten days in the woods with no cell phones, no e-mail and (gasp!) NO eBAY!
I have to admit that I did enjoy the whole back to Earth vibe that my natural neo-hippie girlfriend is into. I washed up in mountain streams. I used maple leaves as toilet paper. We tried to create a lifestyle in the forest just in case the second Bush administration forces us to come up here permanently.
The weather hooked us up too by staying on the warm side of the autumnal season. I got to wear some of my R.L. gear that is only appropriate around a campfire. Plaid wool shirts with suede hunting patches and corduroy collars. I am not sure how many woodsman actually wear cashmere socks but that is what I bring to the game. STYLE FOR LIFE BEEEEYATCHES!
Funky as all hell and with some leaves probably still stuck in my ass, we stopped thru the Woodbury Commons Outlets. I hate how popular these outlet stores have become. People must really think that they are getting a bargain because they flow to these capatalistic encampments by the busload. I have just come from eating nuts and berries and buck-naked-trail-running up in the mountains, but the way I see people raging thru the discount tables in the GUCCI store you would be hard pressed to convince me who is more savage.