Let's keep things 100-1000 over here whether we are talking about the real world or the Marvel Universe. James 'Rhodey' Rhodes was the luckiest man on the planet. He moved up thru the ranks of the military without having his arse shot off and then when he saw the opportunity to join the private sector he winds up working for the richest man in America.
Rhodey carried weed for Tony Stark. Back then in the 1980's when all them rich fools was doing blow and fuxing wild hot broads Tony Stark was not immune to excess. He needed more than just a limousine driver, he needed someone to score his ass some vials of crack and some hos. That is how Rhodey got on in the game.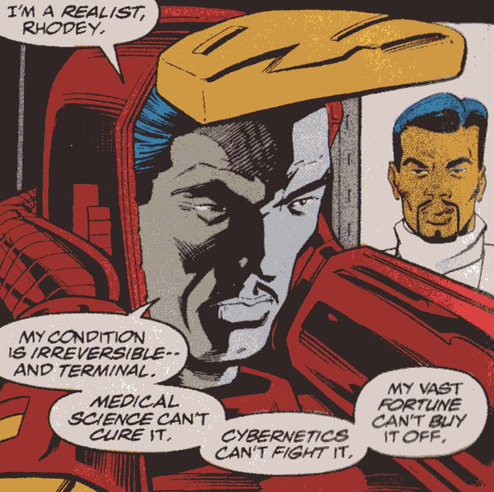 Peep Rhodey's down ass haircut.
Back in the day we called that style of boxcut 'steps' for the change in levels.
Most people now come to associate that style as the 'Philly flattop' made popular by E.S.T. and the group 3(x)Dope.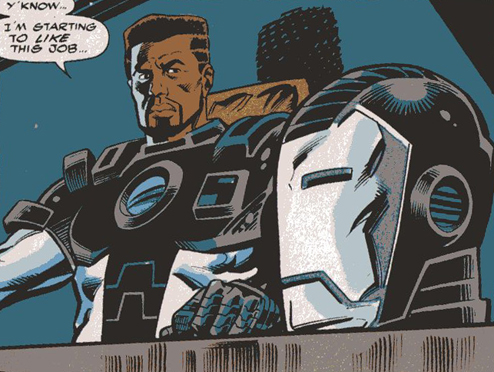 When Tony Stark cracked out for a time and had to go to undercover rehab he let Rhodey come up all the way in the game and rock his own version of the Mark IV Iron Man armor.
With great power comes great responsibility and with the Rolodex of a billionaire comes a grip of sweet white vajeans.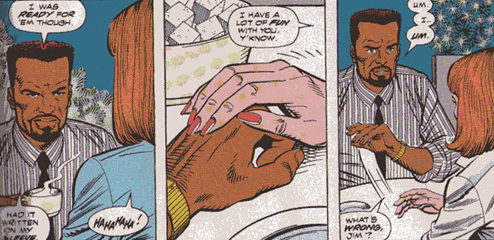 Rhodey was getting caught up beating out the brains of Tony Stark's sloppy seconds.
At first he tried to act like it wasn't the right thing to do, but ask yourself if you would deny the pleasure of holding on to some milky tops? Exactly.
That's when Tony Stark had to pull the plug on all of that Black bullshit. Plus Rhodey had forgot his foremost job requirement – roll that weed bitch!
Tony Stark don't play that shit and he sent Rhodey on his way butter ass nekkid into the streets.
The moral of the story is to stay rolling that weed nice and tight and leave the weed owner's bitches alone.