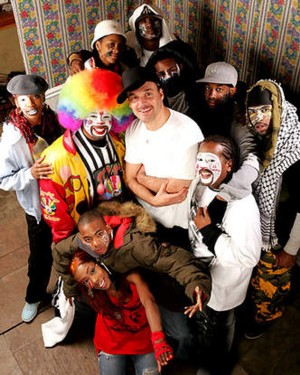 It's not easy to be funny right now when half of the website staff is still in Miami because of all the flight delays from Hurricane Starrkeysha. I hope that none of the subscribers from Biloxi, Mississippi are homeless right now. Holler at BILLY SUNDAY if you are from Louisiana, Alabama, Mississippi, Florida, Georgia or Tennessee. E-mail me with pictures of the desperation and the carnage and I will try to get you on the website staff as a reporter.
Its too bad that the hurricane couldn't have done some good for the world by blowing thru Miami last nite and sweeping the entire VIACOM MTV VMA production out to sea. Yeah, I know we would have lost some staffers at the website, but think of what kind of world we could raise our kids in without the vapid and shallow personalities that filled that auditorium.
We would eventually miss KANGAY and R.KELLY doing their smash duet 'Coming Out of the Closet' but that's a small price to pay considering the fact that we would no longer have to see new cellphone commercials from YOUNG JEEZY, LIL' WEEZIE, BOW WIZZLE or SNOOP DOUBLE GIZZLE.
Is it just me or have the T.I.'s used the DNA from SAMMY DAVIS Jr. to create an army of minstrel clones? There was so much noise and sound and fury and the only thing that was signified was a dancing monkey. Watching PUFFY's old azz dance and shuffle was fun in retrospect to watching UNCLE LUKE bounce and then seeing M.C. HAMMER slide and then… who the fuck is this TOMMY the CLOWN?!?
This is definetly some plan of the T.I.'s. I don't know what it is just yet, but I am going to get to the bottom of this (extra JOHN LEGEND is KANGAY's kept man no-homo).
Now that VIACOM has reduced Hip-Hop vis-a-vie rap music to colorful homo clowning it is time to go back to the rebel roots of soul music. I have been ready to get back here. Y'all should come along too.
Nahhh, y'all jiggs are prah'lee practicing your krumping.