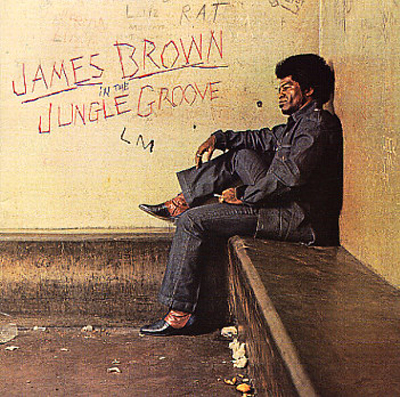 The Godfather of Soul was the O.G. inspiration for these Mugshot Hairstyle Model posts way back when. Since the first time that J.B. has been pinched by the po-po many other celebs have found themselves behind the bright lights and sharp lens of the district attorney's fingerprinter. MICHAEL JACKSON, NICK NOLTE, JESSE JACKSON and MARV ALBERT have all been featured as guest celebrities for these spots. I wish that we were featuring JAMES BROWN under better circumstances. Isn't it somewhat ironic that another arrest would be better than the knowledge that he is gone from us forever?
One of the things that we will take with us is that JAMES BROWN was hardbody all the time. The same intensity that he used to create his hard driving music was also the same focus that he used to perform. JAMES BROWN wasn't about to take shit from anybody, not from lackluster bandmembers, not from sheisty lawyers that tried to take his loot, not from from southern police officers and never from any of his wives. JAMES BROWN was quick to put his boot in woman's azz. I believe that's called getting 'On The Good Foot'. I respect a man that keeps his broads in check whether or not they will call the police on him. A man's got to stand for something or these chicks will walk all over him.
The Godfather is gone from us now but his legacy will be that of one of America's greatest artists evar. He'll also hold a spot close to our hearts for being that man that just didn't give a fuck what you said to him about his hair.
KING HEROIN
After JAMES BROWN's most productive years during the 1960's aqnd early 1970's he fell into problems with the law and with drugs. All kinds of drug busts from pot to coke to LSD almost turned J.B. into a caricature of his former stately self. What could never be denied was the fact that his musical talent was pre-eminent. The JAMES BROWN sound was a staple for break beat deejays and anybody who wanted to get a party started right.

---
THE CHASE 1988
Peep the story… J.B. might be a little hopped up on pain medication when he busts into an occupied rental office in a building he owns. Apparently someone has been using the restroom in his private office. J.B. wants to know who the offending party is. To facilitate the truth he brings his little friend Mr.Mossburg (a shotgun) with him. A high speed chase ensues across county and state lines and back again until the police finally shoot out the wheels to J.B.'s whip.

---
EX-WIFEY #3
Kick azz shows aren't the only times that J.B. gets on the good foot. When one of his wives gets out of pocket J.B. puts his boots down so hard that poppa usually needs a new pair of shoes afterward.

---
EX-WIFEY #4
Approaching his seventies and still as hardbody as a South Carolina slave. JAMES BROWN has been pinched for d.v. more than anyone that I can think of. The police shouldn't even waste their time unless someone gets killed. J.B. always makes up with these broads anyhoo.

---