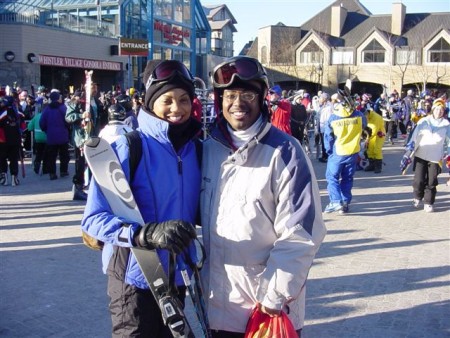 Negroes go skiing!?!?!
Never in my cotton picking life would I believe that so many jigs listened to Talk Talk and also went skiing. Real skiing too, not just posing in a parka with some goggles on your head like I do. The Black folk that came to Park City, Utah were not just mulatto COLIN POWELL apologists either. There were even some darkskin Blacks with moustaches. Whoa! Sundance blew my mind like that. If I ever give up this Hip-Hop shit I know that there will be a community ready to embrace me on the left coast. Peep this shit…And the video channel is called 'BUPPIE TV'!?!?!?!
What the fuck the fuck is BUPPIE TV you ask? Is it the dream realized? Is it the negro network that BILL COSBY once envisioned for himself where DuBOIS' Talented Tenth and BOOKER T's Ascendant Negores create programming that displays the diversity and intelligence of African Americans?
NIGGA PLEASE!!! BUPPIE TV is just some more of that Black Bullshit.This is why the 'Internets Celebrities' are so necessary in today's world. We bring the truth to the light. We represent for all of those people that live in their parent's basements and get outside not so much. We represent for all of those people that don't date as often as they might like to because of things like speech impediments or body odor. We represent for all the nerds, geeks and dweebs on the internets that dream of living the lifestyle, but they don't have 1/1000 million billionth of that BILL GATES type scrilla.
The 'Internets Celebrities' are real people for the people.
The Internets Celebrities Go To The Sundance Film Festival series of videos rocks on with Episode 4 titled "Sundance Real Facts" and will continue this week up to Episode 7. Please join this movement and show love to all the people that sit on the internets all day drinking red Kool-Aid from their "special" cup with the R2-D2 crazy straw.