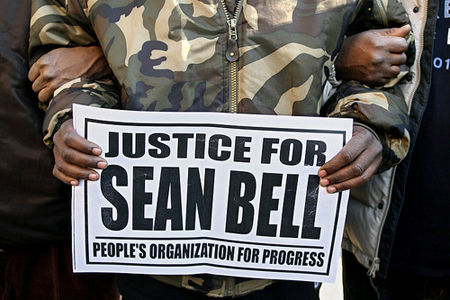 The SEAN BELL case was a perfect storm if ever I thought I saw one. It involved poor people and well-armed overly zealous cops. The victims were totally profiled and targeted by these cops and the final result was amazing in that all the victims weren't killed. The intensity that the police then brought into the community in order to discredit these victims was classic supremacist terrorism.
I was anxious to see what would happen when the remaining victims recovered from their gunshot wounds. Would their recollection be the damning accounts to send these devil cops back to hell? We wrote, we protested, we marched and secretly we prayed. If we could establish our value within the system of supremacy, then maybe we could convince our brothers and sisters of their own self worth. This was the beautiful dream.
As the victims recovered and returned to their communities it became painful and brutally honest to see that one of the victims had no more consideration for SEAN BELL, then SEAN BELL would have had for a remote stranger. TRENT BENEFIELD comes from the safe southeast Queens New York neighborhood as FISTY SCENT. For him and others in the 'hood that have been marginalized the ethos of 'Get Rich or Die Tryin' is valid and somewhat progressive. TRENT BENEFIELD is now the million dollar man in his southside neighborhood.
My folks at PARDONMEDUKE dot com found TRENT's MySpace page. Go peep some of the images of him lavishing himself with his new found fortune. These are the people that I wrote, protested and marched for. Ultimately, these are the type of people that we should all pray for. The folks that think they have only two options… Get Rich or Die Trying.