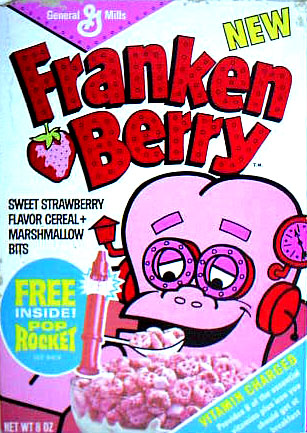 Ever since Passion of the Weiss and Straight Bangin' put together their G.O.A.T. Hip-Hop albums list I been straight up list crazy. Okay that's not true because I have always been list crazy and today's crazy list is for all the breakfast cereals that are so good, because they are so loaded with sugar that if I ate a salad bowl of one of these joints now I would go into a diabetic coma. Youth might be wasted on the young, but breakfast cereal and Saturday morning cartoons at my great-grandmother's house are my earliest thoughts of heaven.
I don't care what any of you say. FrankenBerry is that CRACK! Count Chocula and BooBerry were aight, but FrankenBerry was the fuckin' truth. Just peep how Frank is on the front of the box beasting out over a bowl. Niggas eyes is at half mast from all that purple. Them joints would stay at just the right crunch in milk too. If I ran one of these fuckin' industrial companies that made weapons in one division and breakfast cereal in another I would make kiddie cereal for adults. Reduce the sugar by adding real fruit or some shit. I don't know how they do it and I don't need to know. I'm the idea man and my ideas flow way better with a big ass bowl of FrankenBerry.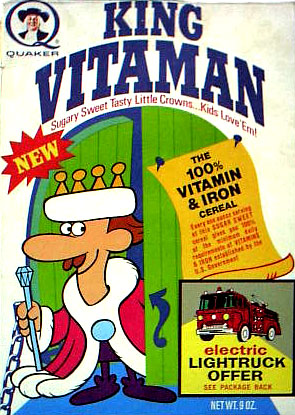 Most of y'all younger cats is too green to remember King Vitaman but this joint was another one of them Saturday morning treats that my great-grandmother used to lace me with. I used to be jumping all over her crib and climbing the walls like my ass was a gotdamned monkey.


Fuck what you heard! Lucky Charms was gooder than a muvv up in that muvv. Lucky Charms was that shit to make your milk change colors too because it was sprayed with so much powdered sugar. To this day I could eat like two of them little five dollar boxes in a weekend (Sat-Sun). And why does cereal cost so damn much now?


That's exactly what these joints were… Smack. Sugarized puffs of rice and a fuckin' Puerto Rican coqui frog who dresses like a horse junkie. Shit tasted good though. Word is bond.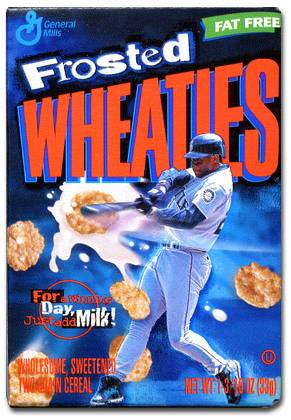 Frosted Wheaties were the shit because regular Wheaties were fucking boring and them shits would sogg out in two seconds. It was like eating wet cardboard. When the T.I.'s put that sugar on the Wheaties them shits became sweetened mushy cardboard. Deee lish.


When I got a little older I started to feel a kind of way about going to the supermercado and buying kiddie cereal so I butched up my style with the Frosted Mini Wheats. One time I made the mistake of filling my bowl with these joints. I damn near cracked my jawbone trying to eat all these joints. The real plus was that I took a rope of a shit.