Editor's note: DP Dot Com resident Hip-Hop historian gets the early jump on the awards season action.
Hip Hop Movie of The Year Award
2007 Best Documentary in The Big Apple Film Festival. TOSHH features, Afrika Bambaataa, Chuck D, MC Lyte, Crazy Legs, Henry Chalfant (Subway Art) and Charlie Ahearn (Wild Style) and is a life affirming reminder that art, politics, photography and Hip Hop can save lives and help change the world.

Rap Song of The Year Award
'The Heart Gently Weeps' By Raekwon, Ghostface, Method Man, Erykah Badu and The RZA. Only The Wu could embrace a George Harrison classic, turn it Black and bring it to this century and make it a tale of guns, warfare and survival.

Hip Hop Book of The Year Award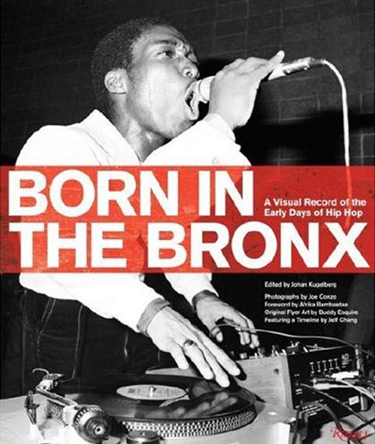 Born In The Bronx
Joe Conzo's Hip-Hop photo bible, with foreword by Afrika Bambaataa. Using actual party flyers by Buddy Esquire, this book takes you back to the raw, real, scary and original O.G. moments in the history of Hip-Hop.
Graffiti Legends Award
Tats Cru
Hip Hop Artist of The Year Award
Nas
For scaring the shit out of his record label and all the self righteous, hand wringing hypocrites and lames who went into shock when they heard his next album will be titled "NIGGER"
Hip Hop Website Award
Rap Music Current Events And News Award
The Emcee You Need To Know Award
Immortal Technique
Money Makes You Blind to the Plight of Your People Award
We have two winners for which cash rules everything around them: Jay-Z and Denzel Washington. Denzel who won the Best Actor Academy Award and thanked us by e-mailing in a sleepwalking, blunted, dazed and confused performance in 'American Gangster' and Jay-Z, who was embraced by the corporate world and rose to head the once mighty Def Jam Records regresses and instead of even making a pretense of being a role model to millions of at risk youth instead runs like a whore to an easy sell and quick money with his latest "pretend drug dealer" album also titled 'American Gangster'. We have the right to expect more from these two men, they know better, but like they say in the streets, "A pimp will sell his own ass even when his whore won't sell hers."
The Blind Leading The Blind Award
This award has to be shared by many who have worked so long and so hard to win top billing in this category…
BET-Just when you thought they had reached rock bottom, they sink lower
Vibe-Just look at the size of it, down from a healthy 200 pages to 45 pages and 40 of them are ads.
Cornel West and Michael Eric Dyson-Two speed talking shit talkers who decided there was a buck to be made by finishing every paragraph with phrases cribbed from crappy rap songs.
Put A Quarter In Yo' Ass Because You Played Yourself Hip Hop Award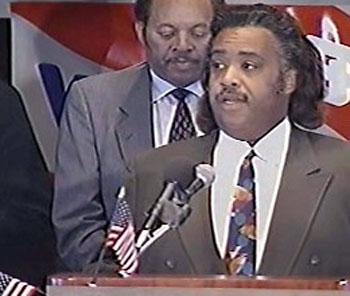 The unanimous winner Al Sharpton who went after Don Imus, an old, drug addled mush mouth, and caused him to get fired from a 5 million dollar radio gig and then rehired for 20 million cash while making "Nappy Headed Hoes" the most Google'd comment in internets history.

Keeping the 'Ho' In Hip-Hop Award
By keeping her mouth shot and keeping a pole between her legs Beyonce is making sure we will have a generation of prostitutes to fill the streets for years to come.

Human Water Bug Award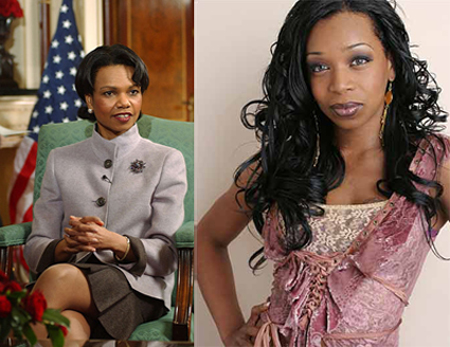 For the extreme effort exerted by both and for the total disregard of all other Black Women so that they can get their twisted shine. These two bone ugly, mindless, heartless and soulless skanks share equal billing New York (from Vh-1's reality show) and Condoleeza Rice.

Lifetime Wigger Award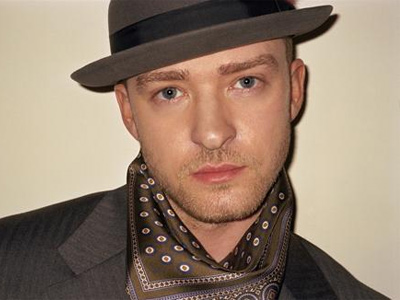 From Mickey Mouse dancing to banging Britney Spears to his cowardly cop out of the infamous "wardrobe malfunction" with Janet Jackson. It boggles the mind that no one has nominated him for this award before. Justin Timberlake gets a slice of bronzed white bread to put on his mantle piece.
SHORTY WHITEBREAD says…
"Fuck that wigger!

He gets nathan."