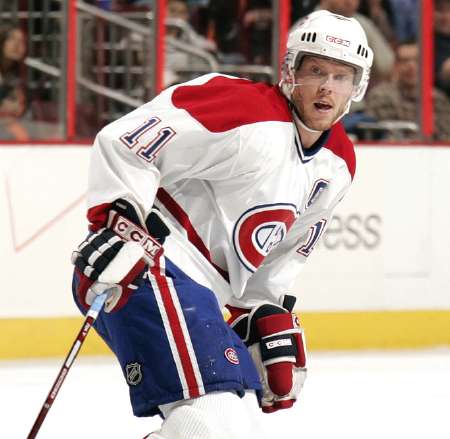 Big up to the Habs' center SAKU KOIVU who returned to the ice after suffering a broken foot.
Hockey players >>hardbody>> everyone other living mammal.
You have to show love to the Habs when you blow through Quebec and that is what I am doing right now. Chocolate Snowflake decided to treat me to a long weekend at this city along the St.Lawrence River. Montreal is an old school port city like New York, or Philly or even Boston of course. I need to make a run to Boston to see what the lifestyle is like over there.
I already told y'all dudes to get yourself a C.S. in your lifestyle. Go to a museum or an off-Broadway play or some shit. Wear a nice button down shirt and maybe a sweater vest. Take the toothpick and gold fronts out of your mouth. While you have been busy fucking up your whole life she has been reading books that will help you learn shit that you thought you already knew. Impress your friends with your newfound intelligence.
So as I was saying, C.S. brought me to Montreal to catch a breather and experience something fresh and new. I always had love for Montreal ever since JACKIE ROBINSON came here to play for the Dodgers AA affiliate. When Montreal finally got their own team they weren't too shabby either, word to the Hawk and the Raines man. The 1990's Expo squad was one of the best teams ever in baseball. Word to that player's strike in 1995.
Montreal reminded me a lot of Brooklyn. The residences are primarily low rise townhouses and the city itself is built for walking. I found Canada to be a little expensive too, but that is because I am living off my eBay sales right now. Still and all, I blame the Clintons for fucking me over with that NAFTA bullshit. There's now way Canadien money should be on par with U.S. currency. Their shit looks wild fake.
I thought I would get my D-Nice on and photoblog some of the sights and sites I encountered up north.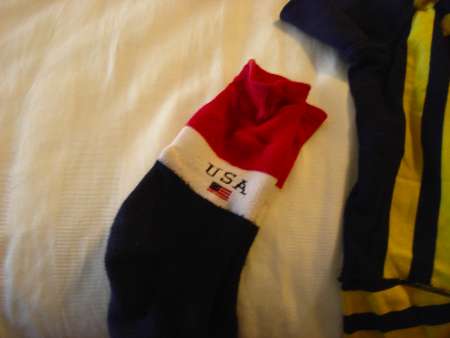 I stay repping my lifestyle. Yes, the socks are Ralph Lauren.
C.S. and I traveled the city east, west, north and south with these magic tickets. Montreal has massively swagger jacked Paris and named their subway system the Metro.
True story is that the buses in Montreal run on time though.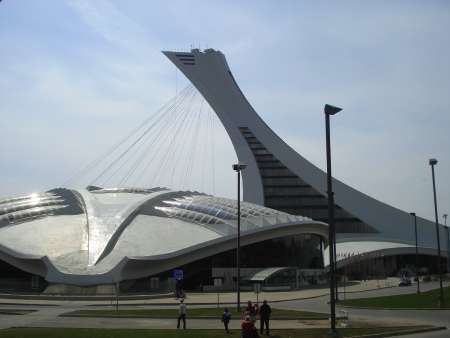 Some futuristic alien Logan's Run shit. You don't really get the scale of these buildings from these pictures, but my ass was totally impressed[ll]. This complex was built for the Olympics in 1972. Public architecture has been moving backwards ever since every where else. I give credit to Montreal for having the referendums and the resolve to maintain all of this shit. They do tax you in Canada like a motherfucker, but then you have the chance to avail yourself of all this shit if you are a resident.
I have never had a problem with paying for shit as long as I was represented fairly and equally for my taxation.
The former Olympic Centre is now a state managed public fitness complex. I may have lost a few pounds just walking the grounds of this sprawling campus.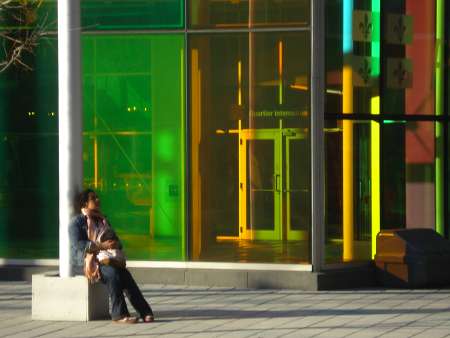 More public architecture that inspires people to be proud and proactive. A government building with a multi-colored glass facade, evoking the principles of inclusion and transparency. What a novel idea for a government?
The biggest difference between the French Catholics and the Roman Catholics is the fact that the French keep their winged goddesses covered up.
The Italians always seem to have a loose titty or two on a statue.
Good for Giorgio Armani that he switched up the name of that godawful cologne. I know some Black folks that weren't having any parts of that 'Black Code' bullshit.
Option#2 public bathrooms are totally deucable.
Shame on a nigga!
For coming into town on the day I am leaving.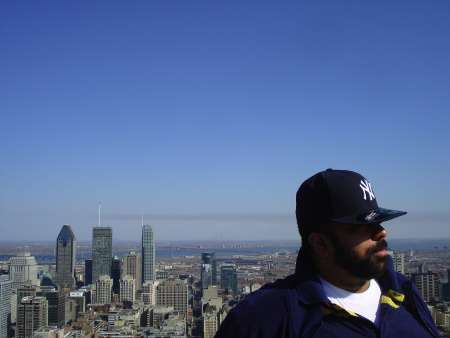 Mount Royal kept it real, but the city I belong to bears the name on my crown.