I went looking for some pieces from the old CraftWerk Kings. These two graff artists called Gnome and Gemini were huge influences on my graff style. Not just my lettering and my characters which these dudes were absolutely top shelf, but my color blending too.
I couldn't connect to Gnome or Gem yet but I did come up on a cat named Sphere from B.K. that rolled with them dudes.

Me and one of my bombing partners Arch II were drinking the other night and we talked about doing a wall burner with some racked cans. I doubt I will steal cans though since I'm closer to 40y.o. than 14. I would be down to put up one last burner.
And videotape the experience, of course.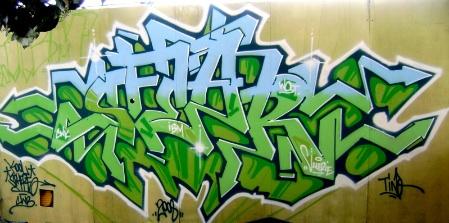 Sphere isn't bombing the subways any longer. He is on the west coast working on his music element right now. You can still call him SFear.
Here's a look at a Preemo laced track for his group Verbal Threat.