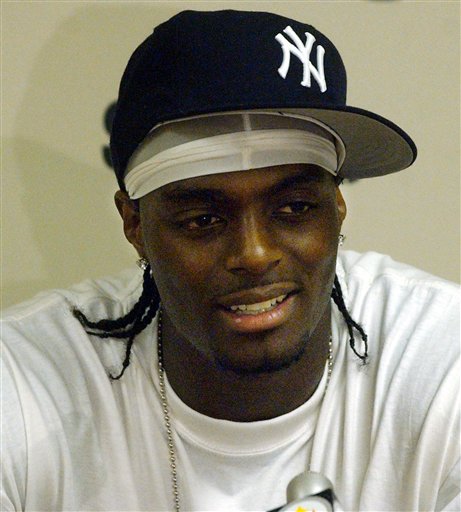 Of shooting oneself in the foot, except this meatball couldn't even get that part correct. PLAXICO BURRESS went from having a screw loose to becoming a loose cannon, literally. The metaphor in real life.
BURRESS hasn't really been a part of the team this season as the Giants defend their 'Any Given Sunday' Super Bowl victory. Dude was hanging out at a nightclub while on the injured list. I think we can all see where his head is at right now. This dude might be fucking around with DWIGHT GOODEN's white pudding if you know what I mean? ANTONIO PIERCE also. PIERCE tried to hide PLAXICO's gun after the incident. WTF is wrong with these foolios?
The NFL should suspend both of these meatwads. PLAXICO for carrying an unlicensed biscuit and PIERCE for absconding with said biscuit. When did the NFL become the Association? Sure RAY LEWIS merc'ked some fools a few years back, then there was that dude from the Broncos who got popped in a Denver 'hood, and yes SEAN TAYLOR was killed by a gunshot to the leg, but when did the NFL become so enveloped with gunplay?
Notice I conveniently left out Pac Man Jones who shot up a club in Vegas after making it rain and watching people pick up the raindrops. Now that Pac Man is playing for the Cowboys I need his ass to stay on the field and out of the clink. But the Giants, they can burn in hell. Except for crazy ass LAWRENCE TAYLOR. That's my nigga right there.