Why don't people don't name their kids Earl anymore? Or even Jamal? Everything is now Brandon, or Justin. When I was volunteering as a little league coach I used to have to add a description to the names of kids so that I would remember who the hell they were. "Lazy eye" Brandon vs. "McNugget head" Brandon, or "Special Ed" Justin vs. "Whore mother" Justin. If I have a daughter with Chocolate Snowflake I will name her Earl. Not even short for Earlene or some shit, just Earl.
The name Earl came to mind when some folks were talking to me about the New York Giants bruising running back Brandon Jacobs. By the time the fourth quarter rolls around no one wants any part of that dude. The real reason is that the Giants O-line is beating the crap out of people. Brandon Jacobs is a big dude, but he is far from spectacular. When I think of the greatest oversized running backs I reminisce on cats like Christian Okoye who used to put in work and the man of all oversized running backs, Earl Campbell.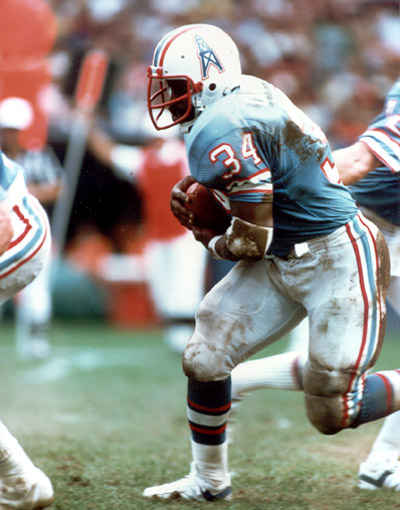 Earl could beat the shit out of you AND outrun you. Secondary defensemen wanted NO parts of Earl Campbell evar. He was laying fools out with the forearm shiver or whenever he dipped his shoulder.
So all you folks that think a dude named Brandon is so effin' special you might should need to sit your ho asses down right quick. That is Texas Longhorn speak for respect Earl Campbell and all of his rushing titles and MVP awards.

The 2009 DP Dot Com NFL Playoff Pool
Okay, so here are the parameters a.k.a. the rules and shit, for the DP Dot Com NFL playoff pool.
You can only pick one(1) offensive player per team. So if you chose D'Angelo Hall as your RB you can NOT select Steve Smith as a WR. Take your time and use strategy when assembling your team. You will only get points when your player plays so be careful of the 1st round byes and teams you think will only play one game. Your team must consist of…
PLAYERS
1 QB
2 RB
2 WR
1 TE
1 FLEX(could be a running back, wide receiver, or tight end)
1 Kicker
1 Defense/Special Teams
SCORING
6 pts- TD Rushing, Receiving, Passing
6 pts- Defensive TD, Kickoff Return/Punt Return for a TD
6 pts- Defensive Shutout
3 pts- Field Goals
3 pts- Defense holds opponent to 9 points or less
2 pts- Defensive safety
2 pts- Two point conversion (Rushing, Receiving, Passing)
1 pt- Every 10 yards Receiving, Rushing
1 pt- Every 20 yards Passing
1 pt- Defensive sack, interception, fumble recovery
1 pt- Kicking extra point
0 pts- Any yardage on punt/kickoff returns
* If a punt or kickoff is returned for a TD the D/ST gets 6 points and if you have a guy like Mark Jones as one of your WR's he will also be credited with 6 pts if he ran it back. So in that scenario the Titans D & Jones will be credited 6 pts.
* RB has 73 rushing yards and 10 receiving yards(total yards = 83) he will be credited 8 pts.
* If a QB has 200 passing yards -1 rushing(total yards = 199), he will be credited 9 pts. If he has 199 passing yards + 1 rushing(total yards = 200), he will be credited 10
*This is NOT for just the first round, but the ENTIRE playoffs so once your player is out you cant pick up another you have to play a man or two or three down.
Here's what my squad looks like…
QB – Donovan McNabb
RB – Michael Turner
RB – Chris Johnson
WR – Hines Ward
WR – Reggie Wayne
TE – Antonio Gates
FLEX- Steve Smith
K- David Akers
D/ST- Tennessee
Submit only one(1) playoff roster. If you are having a difficult time figuring out how to put your roster together then you might should hold off effin' with this pool until you can get some time on your hands to smnack yourself in the head with a baseball bat. I will not accept roster revisions so wait until the last minute to make your choices.