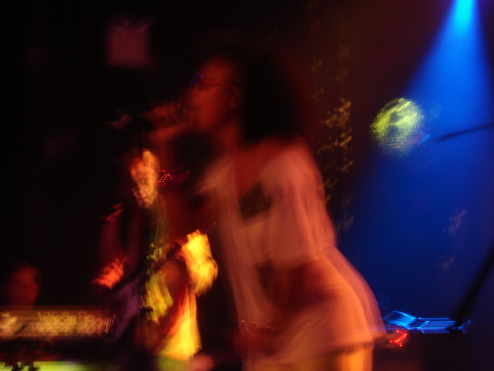 For Amanda Diva's birthday the Roots let her open for them @ Highline Ballroom. Amanda Is sweet and earnest. She is coming into her own as well. Amanda is like the female Drake in some regards. Her earlier public work still clouds our appreciation for the strides she has made to evolve her artistic talent.
I just don't think Amanda Diva has the pipes, the chops, the moxie, to break through the ceiling. She is still lovely and glamourous though and it was her birthday.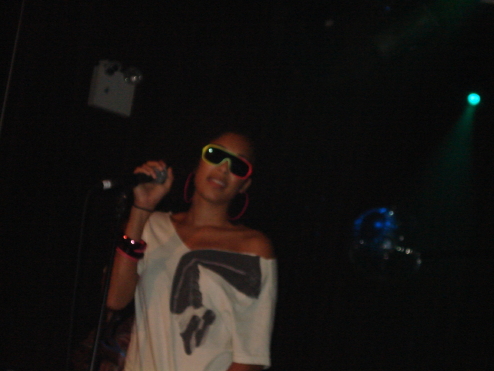 *I hope you aren't tired of seeing the drops where I am out on the town drinking free swill and taking pictures for the internets because here goes another one…
Combat Jack put me on to this party for Sirius satellite radio's Angela Yee. Her program is like a year old now. Hennessy Black was holding down the venue Taj. This was some Chinese cleaner pressed button down event.
For the third straight night I almost didn't get in because I had on the wrong shirt (a polo knit?), but thankfully Combat Jack and Marvelous Mo came to save the kid from the ignominy of standing outside of the velvet ropes.
Marvelous is beautiful. She just came back from L.A. She was out there reporting on the B.E.T. awards. Good for her. I only wish the best for Marvelous.
I also wish she would stop smiling.
There is no smiling in the game. Look at Joe Budden.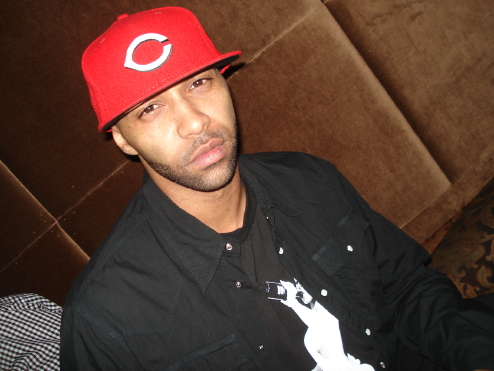 You can't tell that he is enjoying himself right now. He singlehandedly crushed Vibe magazine with a web video.
Somebody in the rap music custodial hierarchy is gonna have to study the SlaughterHouse collective for the right way to roll out your online projects.
Combat Jack and his boy Nick from Londontown are having too much fun.
There is no smiling in the industry. Fix your faces.


The best part of the night was chatting up DJ D-Nice. If you haven't seen his photographs you are seriously missing some great art. D-Nice is a huge inspiration to me. He has a real reason to NOT be a success, to NOT be exemplary, to be anything but a shining light. He has witnessed first hand what are the worst things that people can do to others. And still he marches forward, unbowed and unafraid. What should I fear? Not a man. Hail Meg!
My next stop after leaving Taj was to hit up the $.20 cent wing spot on Bleecker.
I met up with the homey Si from Amsterdam. Son is in town for a few weeks copping kicks and gear on the cheap since he is holding a fistful of Euros.
After a few rounds of drinks and a few plates of wings we were joined by Angela, the ATL mistress of the website ProperTalks. Shout to Keeks in L.A.
Next stop was the Highline Ballroom. Angela is a typical woman so she plans shit out and bought her tickets online Monday. I didn't have a ticket for Si so I hit up my OKayPlayer connect. OKP FTW.
Mad heads came to the Highline too. Two of my favorite homeys from Jersey who always hold that WBW were in the building. Shouts to B and Joe S. (y'all already know no dry snitching on DP.com). Them dudes sparked they 'stinky pocket' and then the security shut them down. Next time I see them I will show them how to burn it down properlike.
*DP.com does not endorse the use of illicit narcotics unless for documented health reasons*
Roots @ Highline is the best thing in my nightlife. They don't fux with me for wearing my cargo shorts. They don't fux with my 'stinky pocket'. They don't fux with me when I take my pictures either as long as I don't have my camera in the air for the whole set.
Polotron, you wanted to fux with this event and you and I haven't gotten up in a minute. Let's do the next Roots Jam Session on Wednesday next week.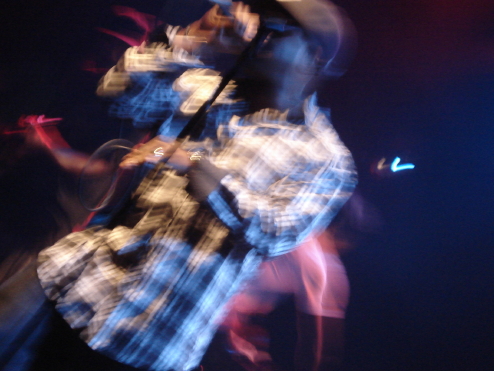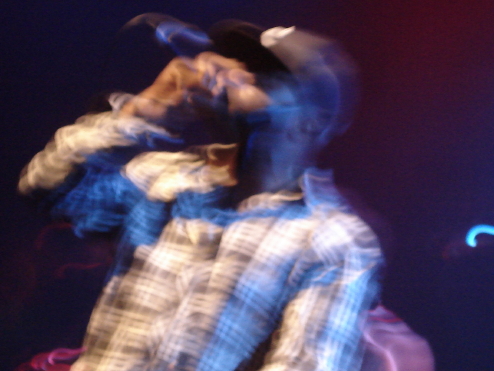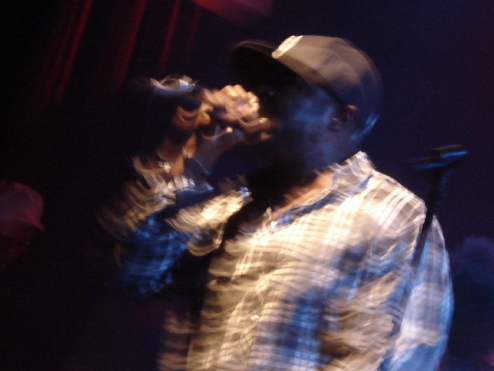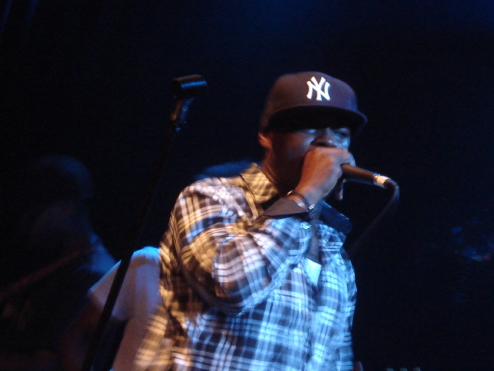 Some commenters here or over at XXL complain about the exposure of my pictures. Too bad. I love them because they describe movement and life. Hip-Hop lives through the Roots. They don't just use their time at the Highline to display their supreme musicianship but they have made it a platform for up and coming talent.
Brooklyn's own Fresh Daily got a chance to hold the microphone this week.
Who will be on stage next week?
The Roots for sure.
It doesn't stop.