My homie BRIAN DEKA PAUW is one of those brothers in the vanguard of post-Blackness. He has never let living and learning in Bedford-Stuyvesant deter him from the things that he wanted to do with his life. He's fortunate that he doesn't have the social borders that most people in America have. Not just the kids growng up in the 'hood, but everybody in America who can't see past race or class when they look at other people.
Brian is a avid snowboarder. So much so that he has formed a not-for-profit organisation geared to bringing kids from the center city out of their environment into the great outdoors for them to learn recreational activities, but mostly for them to realize that borders they thought encircled them do not exist. It will be a yeoman's effort but it will have to start somewhere.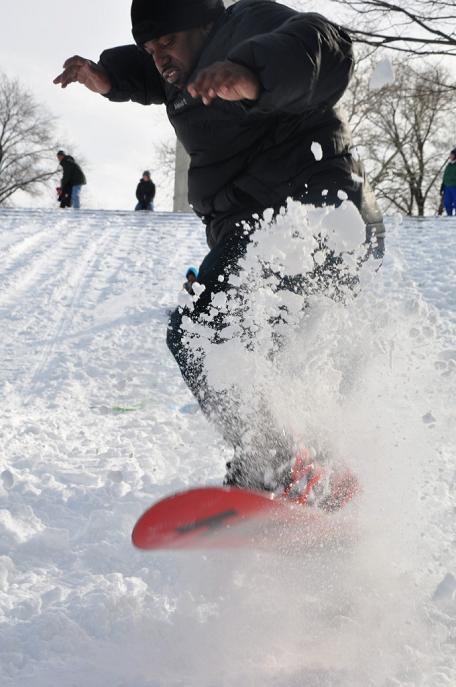 It started over a week ago with the first big snowstorm of the '09 winter. Brian grabbed up his board and boogied over to Fort Greene Park to shred the hill in front of the veteran's memorial statue. Fort Greene Park exists in an interesting socio-political-economic vortex. One side of the park along DeKalb Avenue fronts some of Brooklyn's most expensive real estate, while the Myrtle Avenue side fronts Walt Whitman projects.
The lines of park ownership reflect the color of the new fallen snow. Little ghetto kids can play in the park but they had better keep the noise down. And definitely don't start forming any crowds. When Brian took the opportunity to instruct some of the youngsters who were curiously enthralled by he and his friends snowboard antics is when the NYC Parks Rangers swooped in and used their authority to ruin what could have been the removal of ther borders in these kids minds.
I'm sad and embarrassed that these Parks Department employees abused their authority in this instance. The vibe was such that their presence was not only unnecessary but also somewhat questionable. You can never really tell what thoughts exist in a man's mind, but you can certainly tell when he is lying and when he is being honest and upright.
The truth is that the NYC Parks Department DOES allow snowboarding in NYC Parks. Remember the Red Bull Snowscrapers exhibition that we highlighted here at this site? That was in an NYC park. Albeit NYC was paid handsomely to use their property by Red Bull. At the end of the day these parks belong to us. All of us. Especially those who can't afford to drive into the Catskills to a resort or even hop the bus to Bear Mountain for that matter.
Support my friend Brian and his Hoods To Woods movement.
FREE THE PARKS, AND THE KIDS WILL FOLLOW.
BLKOPS-122009-loRes from jsjcreative on Vimeo.