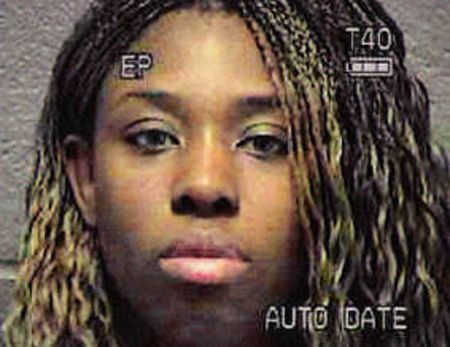 Editor's note: I'm gonna bring this theme back from last year where Combat Jack and I had some fun saluting the people who have kept alive the legacy of CRISPUS ATTUCKS.
Many of you may not know this but CRISPUS ATTUCKS was the first person killed in the Revolutionary War. ATTUCKS was also a Black man. That he is generally the only name most people remember when queried about the so-called 'Boston Massacre' says that ATTUCKS was surely a pioneer, but a pioneer of what you might ask? CRISPUS ATTUCKS has pioneered a long line of Africans in America who have gotten their shit fucked the fuck up because they were fucking around with the white.
To lead off this years CRIPUS ATTUCKS memoriam we will look at the controversial story of CRYSTAL GAIL MANGUM.
MANGUM is the woman, who in 2006, accused several Duke University lacrosse players of raping her. MANGUM had been in the company of the lacrosse team after she was contracted to perform erotically at a private party in the residence of the players. The story ignited a firestorm of racial tensions across the nation. The history of America and the relationships of whites and Blacks is well-documented for those that seek the information. Those that prefer rumor and sensationalism are unfortunately the majority however and the facts of this case were obscured and blurred from the start.
MANGUM was a stripper. MANGUM was hired to strip. At some point in the evening MANGUM was approached for services other than dancing and the removal of her clothing. MANGUM refused those advances. What has never been publicized is that MANGUM was issued a benzodiazepine from the players in order to make her pliant to their sexual advances. MANGUM had been drinking alcohol and smoking marijuana prior and all of these substances ultimately made for a convoluted toxicology report.
While MANGUM had no DNA evidence from the lacrosse players within her vagina she did show evidence of vaginal and anal intercourse. Basically, MANGUM was given a date rape drug by the players and she was fucked in her pussy and in her ass with something other than a penis. This is why CRYSTAL GAIL MANGUM deserves the CRISPUS ATTUCKS salutation. If she had simply kept her ass in the Black Durham strip clubs this would have never happened. She went after the what she thought would be the easy paper from the white college kids without realizing that these kids were depraved from years of privileged programming.
Date rape drugs (benzodiazepines) are drugs normally used to treat anxiety, panic attacks, insomnia, and several other conditions. Some benzodiazepines used to treat insomnia possess a powerful motor-impairing sedative, with strong amnestic properties. This is the reason that she can't remember exactly what happened, but it all boils down to her decision to fux around with the white. Sure the Black money is slow money and may not always help you pay the rent on time. but the Blacks don't even know how to pronounce Benzodiazepine much less how to administer it.
Unfortunately, CRYSTAL GAIL MANGUM had to learn the hard way (puns always intended) that hanging around with the white is the quickest way to getting your shit fucked the fuck up. Luckily for her she didn't suffer the same fate as CRISPUS ATTUCKS, but then again, it's still very possible that a musket was shoved up inside of her. We'll never know.
R.I.P. CRISPUS ATTUCKS.