Most of y'all know that Sean Price is an official Sneaker Fiend. Sean P's love for kicks goes back to his Kangaroos with the zipper pouch on the side.
On the heels of the Nike x Questlove collabo that was inspired by the nasty Gordon Gartrelle shirt that Malcolm Jamaal-Warner rocked on the Cosby Show, Sean Price has created his own shoe designs.
Ravishing Ruck Rude is calling this project the 'LeVar Burton Pack'. LOL.
No, really.
Here are the shoe designs…


'Geordi' Air Max 2011
These Air Max 2011 are so futuristic you can't see them. And sadly, neither can Geordi LeForge.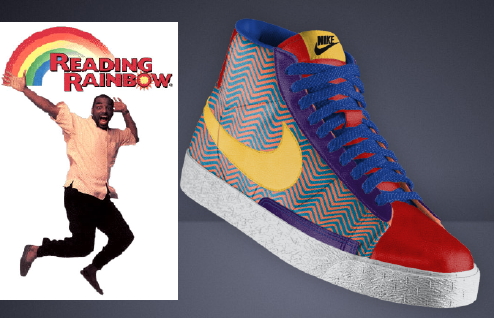 Reading Rainbow Blazer
Pause [ll] to this design. Read a book nigga!
Kunta Kinte Kobe V
Red for the blood that was spilled. Black for the people stolen from Africa. Green for all the money they made America. Gold for the chains that Black folks love to wear. Just don't call these Kobe's Toby.