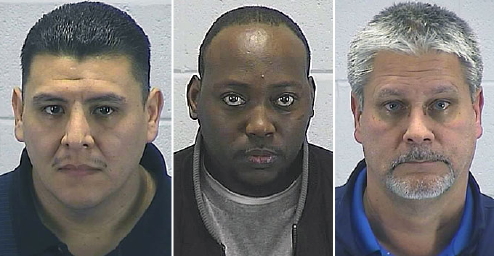 This is what your typical Sexual Act Solicitors look like. Allegedly, of course, until a jury finds them guilty. Mugshot hairstyle models commit all kinds of crimes against humanity but mostly against hair follicles.
Let's take a look at some of the recent round of models mugging for their closeup…
ASSAULT
This model is ready to kick some ass with her slickback style and her steely glare. The knife she wields is just for special effects.

---
GRAND LARCENY FRAUD
The neckbrace is for to hide her stolen credit cards. And her styling comb.

---
DRIVING UNDER THE INFLUENCE
The beatdown this model was given by his own car's steering wheel was epic enough to bring out the highlights in his hairstyle. Good job dude.

---
CHILD ENDANGERMENT
The best thing about Mugshot Hairstyle Modeling is that it isn't all age biased like regular modeling is. We're not selling high fashion items here with MHM, but a lifestyle industry, and if you didn't know this already prison is America's last industry.

---
GRAND LARCENY FELONY
This man's toupee is a capital crime to good taste everywhere.

---