Cheers to all my readers in the U.K. I hope you guys are enjoying your World Cup victory over Portugal, not. You Brits also have the Wimbledon tennis tournament in full swing. The best story out of Wimbledon so far is how a group of "contractors" skated off with 300 cases of champagne valued at $175k. Too bad it wasn't Cristal. The other story coming from Wimbledon is the one that I want to focus on.
SERENA WILLIAMS is absent from the tournament to rest her chronically bruised knee. Her sister VENUS had been favored to win the tournament and some people would have liked to see the sisters duel each other again on the grass courts in England. Instead SERENA rehabbed her ailing knee by shopping and making cameo television appearances. This angers the T.I.'s that run this tennis shit, otherwise known as the International Tennis Federation. The T.I.'s then unleashed their T.I. pitbull to bite SERENA on the arse.
Where else could a gifted, yet classless athlete find shelter and even celebrity, but under the T.I. umbrella. JOHN McENROE somehow managed to will himself to several major tennis titles while having nothing more than a bad attitude and a worse sense of timing. JOHN should thank AAUM that his DNA reflects more of JAPHET than HAM or SHEM because his tirades could have made him a mere footnote like DENNIS RODMAN (coincidentally, RODMAN also smashed JODIE FOSTER too).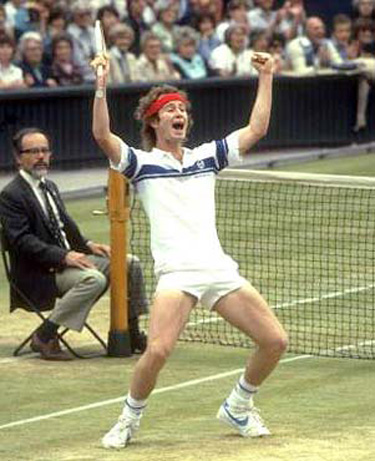 So now this half of a fag starts to complain that, "if SERENA was worried about her tennis instead of designing clothes, then maybe…"
Dear JOHN… Fuck you! CHOCOLATE SHE-HULK will never give you any of her muscular sweaty goodness because you are a fag. In the JAY MARRIOTTI sense of the word.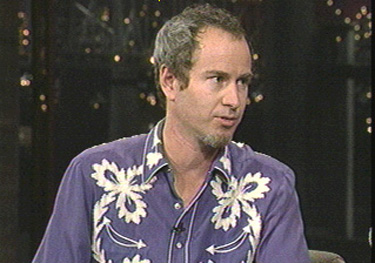 This is the same prick that critcized JAMES BLAKE for having dreadlocks, and saying that YANNICK NOAH was the only player great enough to wear his hair that way. HO SIT DOWN! That's enough from your lips JOHN McEN-HOE. Go back to being a nettlesome homo in your little tennis shorts somewhere else. SERENA and VENUS are champs and they would have kicked your whiny azz even when you were the pride of Forest Hills.