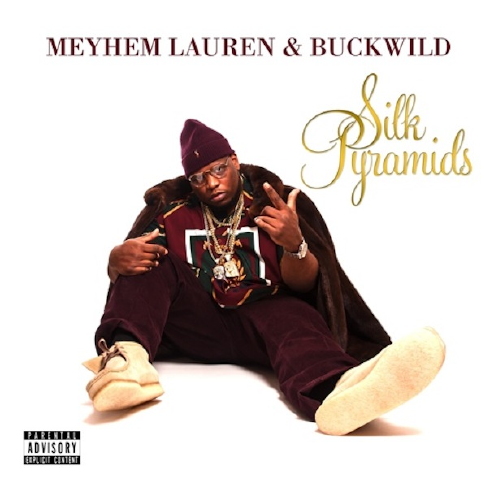 Meyhem Lauren has been going hard in the booth since we last heard a full length project from the young Queens lord. Last year's 'Raw Cashmere' EP, done alongside the producer Ice Rocks found Meyhem Lauren cleanly in the boom bap backpack vein. The beats and the rhymes were perfect for wearing contractor Timbs and headphones for head nodding. That's dope for an EP project but 'Silk Pyramids' is a full length album and much more is expected from Meyhem Lauren at this stage in his catalog.
Buckwild DITC comes thru on the production like a sage mentor to provide a soundbed of dope music a young hardbody emcee would love to rhyme over. I look at Buckwild like a Cadillac DeVille of the beats. Smooth and steady beats that give you a controlled ride even on top of uneven asphalt. Buckwild's drums are on point and a welcome sound for rap music in 2014. There's been so much rap in my recent memory without drum kits present I was wondering if we would ever hear the snare again in Hip-Hop.
Meyhem Lauren doesn't come to the album without bringing his rap friends either. Longtime co-defendant Action Bronson, former DasRacist heartthrob Himanshu, XXL Freshman Troy Ave, Lo-Life general Thirstin' Howl 3rd, and Outdoorman AG da Coroner are all spitting the bars like this was their project and not a feature for their big homey. Himanshu and Coroner's verses stand out as gems to me even from dudes who I've heard from for the last several years. AG da Coroner's debut album is another highly anticipated project on my 2014 list.
Meyhem Lauren is justifiably part of the NYC rap renaissance I've been waiting for since Wu-Tang phased out and the Diplomats flamed out. Meyhem has kept improving his verses so that he isn't outshined by Action Bronson or outclassed by Troy Ave. Listening to Action on a DITC soundbed reminded me of Big L and the wit he displayed with his verses. Then I thought to myself how Meyhem Lauren along with Action Bronson was the second coming of Lord Finesse and Big L. Just like Finesse on the microphone was a master lyricist I see Meyhem having that much dedication to his words and verses.
My favorite track on the album is 'Honey Sorbet Champagne'. Buckwild murders the music and Meyhem str8 decapitates with his verses. 'Salmon Croquettes' with AG da Coroner's feature is serious Hip-Hop. The keys from Buckwild and Coroner's appearance guarantee Meyhem will use this as funeral music. If you ever needed an anthem to get you hype for a stickup then 'Where The $ @' is your jam. Peace to Thirstin' Howl on that sick ass verse. Himanshu and Meyhem trade verses on 'Narcotics Anonymous' and I live for Meyhem's ad-libs at the song's end. '100 MPH' opens the album and also features Action Bronson. Nuff' said.
Don't take any of this hyperbole from me on face value. Stream these three(3) tracks from the album right here and right now. NYC rap ain't making a comeback because it never left. #RespectTheFlyShit