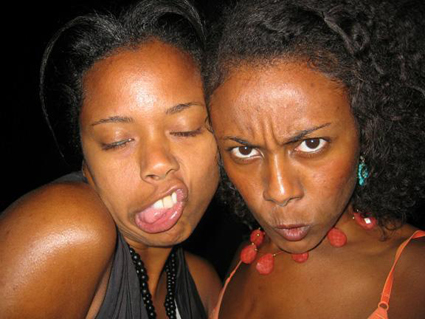 You do the math!
Thank goodness I have a broad's opinion to buttress this post against, or all of you developmental studies graduate degreed dreadlocked feministas from North Carolina Community College would be bringing your pink pitchforks to my door. Y'all still got a chip on your shoulder 'cause that Duke case is smelling like another TAWANA BRAWLEY. People need to stop hating the messenger just because they don't want to hear the message.
JOY JONES is one of y'all whether you believe me or not. She submits her essays to the Washington Post. You might remember her jawnt, 'Marriage Is For White People'. Well now Ms. JONES has turned it up a notch to explain, ne, 'splain why most of you Black women aren't fulfilling your domestic birthright of holy matrimony as ordained by the baby Jesus Christ. She calls this winner, 'Why Are Black Women Scaring Off Their Men?: A Fighting Spirit Is Important-But Not At Home'. But you can read all of that later on your own time.
This is my time now hotdammit and I want to know what is more important than serving me (in the collective royal sense – the Black man)?!? Don't you understand that we are being attacked constantly at the workplace (those of us that have jobs) and in the media (those of us that read newspapers, watch television) so much that all we would like would be to come home and have a warm meal and a pair of slippers at the door. But nooooooo, you have a meeting tonight with the exec admin staff about the new memo pad format. BOLSHEVIK!!! So it's another night of microwave turkey breast for us and the kids that we picked up from the sitter. Fine. And then on nights that you are home it's spaghetti. Again. We don't give a fuck if you have put fresh garlic in the pasta. We have spaghetti 15 times a fucking month.
We wish we had the chance to have sex with you as often as we eat your spaghetti. You were such a sassy women when we were dating. Your sex appeal was out the roof. We were open for cunnilingus too. As a matter of fact, we got so good at it we became cunnilingual. You graciously shared your chocolate starfish with us. The only time I get to see that now is when you are showing me your ass during a discussion. You knew that we were working at a blue collar profession. Because we say save for life insurance and you say save for retirement doesn't make us outmoded. We were a team before, Batman and Robin, and we are not going to be playing the position of Robin. Extra no LUTHER VANDROSS' shoulder pad glitter jacket.
What we need is for you to play your position. Sit back in the passenger seat while we drive this family through the ups and downs. We'll occassionally ask you for some directions. Just don't cop an attitude when we don't follow them. We love y'all to death, we just need for y'all to simmer down, stay sexy and shut the fuck up.