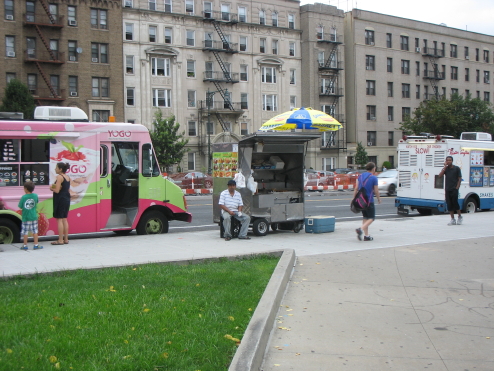 On this week's episode of the Combat Jack Show, our news anchor Matt Raz gave us a story about the beef between Mr.Softee and the YoGo trucks. You can see in the pic above that the confection caravans needed to be separated by the water dog dealer. That's literally beef.
I can see that Mr.Softee was trying to break away from his decades old rep that he was soft in the streets, but let's face it, frozen yogurt is the wave right now. Mr.Softee had his run. He was the dude who took out the Good Humor man, but every king must eventually relinquish his crown.
Mr.Softee better start making nice with the YoGo guys because Ben & Jerry's, Stonyfield Farms and a bunch of others are looking to muscle in on their marketshare. In NYC it's all about getting me to the greeks [ll].