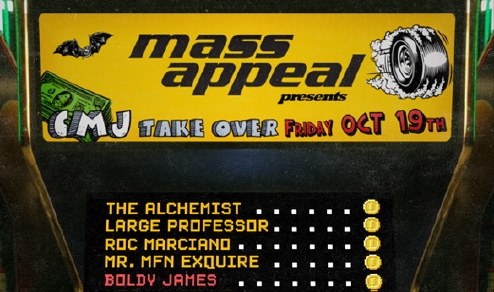 Mass Appeal's CMJ 2012 showcase was prA'Li the only rap show I NEEDED to attend this year. Everyone whom I fux with and wants to fux with was up in that piece.
Roc Marciano, Alchemist, Action Bronson, Meyhem Lauren, Timeless Truth, Mr. MFN eXquire… Listen, EVERYBODY was there!
The shit felt like a homecoming for all degenerate fans of rap music. The people whom rap music taught how to do the soulclap and then subsequently gave them the clap and various other STD's. Here we all were, still loving this beautiful whore called rap music. Still try'na kiss her on the mouf.
I hope you live as long as I have Internets. Long enough to confuse music festivals with one another. A3C or Jack The Rapper? College Music Journal or New Music Seminar? Spoonie G or Rakim? Rakim or NaS. NaS or Roc Marciano. It. Does. Not. Stop.