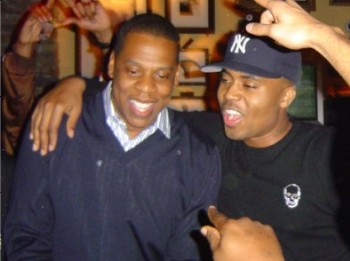 As some of you may know, our brother in the blogosphere, has now left the stratosphere. For some time now NAH'RIGHT has been popping hardbody on the internets, but his official coronation came this week as he will become an official correspondent of the T.I. machine. This is a good thing despite what some might think from the outset. Yes, Island Def Jam is part of the overall corporate monster that has sold cRap music and Hip-Hop culture to the highest bidder, but for every SHAWNNA and RICK ROSS you get a GHOSTFACE and a ROOTS Crew. The T.I. machine is a necessary evil in this day when people are downloading entire albums almost two weeks in advance of release dates.
NAH'RIGHT's coronation as a legitimate media outlet is similiar and even somewhat greater than BOL's ascendence on the XXL mag website. This is a validation for all of the sites that having been fighting the good fight to bring real Hip-Hop music back. Whatever that means. These sites have been showing the diversity and knowledge of the Hip-Hop listener from the artistic aesthetic to the consumer basepoint. Without them there would be no NAH'RIGHT…
BYRON CRAWFORD
NOTES FROM A DIFFERENT KITCHEN
UNKUT
WE EAT TOO MANY SHRIMP
COCAINE BLUNTS & HIP-HOP TAPES
THE RAP UP
HIP-HOP BLOGS
Can you imagine my surprise when I tuned into N.R. the other day and I saw this drop?



"Ghostface Promo tee – I have one and you don't. You mad?"
I am pretty sure ESKAY was just joking with us (although I would like a tee shirt if you got a 3XL). I just don't want ESKAY to go Hollywood and become a shill for any media outlet unless they are putting his daughter through private school. You can't measure the value of one voice when the truth is being spoken. Just like our voices were heard on election day this month. ESKAY has become our collective voice inside of the matrix. He has to realize that he is grinding for all of those that didn't make it this far – R.I.P. NASTACK.
The next step is to see what the powers that be put into action now that they know how we feel. Will we get to hear more releases from REDMAN, JOE BUDDENS and MEMPHIS BLEEK (okay, maybe not so much BLEEK)? Or will they continue to slowly choke Hip-Hop and its diverse talent base to the point that no one will be able to release an album without the production of LIL' JON? As ESKAY prepares himself to enter the T.I. matrix I would send him this e-mail…
ESKAY,
What the deal family? I guess I have to call you Young Blogosphere now. Congrats on your success with Def Jam. Shit is about to get really crazy now that you have been annointed the savior of Hip-Hop on the internets. Alright, maybe it wasn't that serious, but there is a real movement at N.R. and the people with control of the machine want you to get down because you have control of the hearts and minds. Those things are worth more than the machine itself in the long run.
Don't stop the real talk. If niggas need to take off their sandals then you gotta tell them. If niggas is wearing pink furs and pink MAC lipstick you gotta put 'em on front street. Your constructive criticism and your ear for the Hip-Hop that radio doesn't play is why I tuned into N.R. Don't become a T.I. posterboy. Keep Nah'Right hardbody ya' heard?
'Lo_4_Life
-DP