I have featured my favorite comic book artist JOHN BYRNE almost exclusively on this site. I also gave some burn to the great BILL SIENKIEWICZ and I had to give shine to the graphic storytelling skills of FRANK MILLER. All these dudes I can trace back to an artist named NEAL ADAMS, who was an influential artist and comic storyteller from the 60's and early 70's. NEAL ADAMS did some killer Batman shit, X-Men and most notably, Green Arrow/Green Lantern. NEAL ADAMS was the first cat to illustrate the faces of heroes in lifelike detailed distress that let the reader know that being a superhero was hard fucking work.
JOHN BYRNE bit hard off some of ADAMS' style techniques while FRANK MILLER made social themes central to his stories like ADAMS' did. BILL SIENKIEWICZ was just a trippy hippy artist. When TODD McFARLANE burst on the scene in the late 80's he took Marvel Comics flagship hero to new heights. McFARLANE was definitely influenced by the BYRNE-MILLER-SIENKIEWICZ holy trinity of comicbook illustration.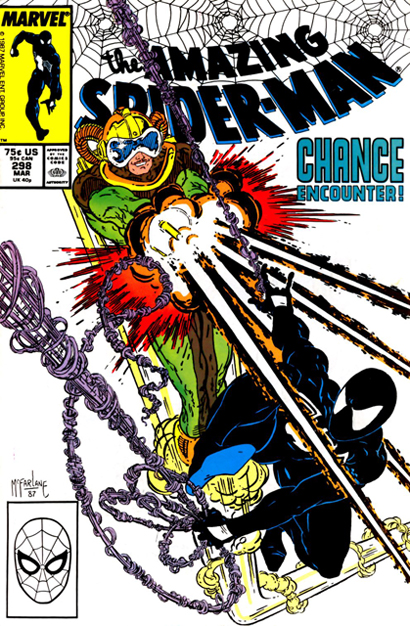 TODD McFARLANE illustrated Spider-Man with verve and action. The covers described the web slinging wall crawler as almost ready to jump from up the book. He gave the two dimensional format of comics a third dimension. This was a storytelling technique that FRANK MILLER stole from NEAL ADAMS. When you see a character break out of the panes of the storyboard and jump across the page of the book it makes your sightline move in an other than normal fashion. TODD McFARLANE also filled the panels with a wild amount of details. I would pore over the comic for hours to see who he drew in the background of a scene.
McFARLANE also had the good fortune of creating one of Spider-Man's most feared and loved villains in the past twenty five years. The villain character called Venom was a fearsome and ruthless creature. The by-product of an alien parasite and a person that hated Peter Parker/Spider-Man's guts to the nth. Venom was determined to end Spider-Man's career and break his bones. Spidey barely lived to tell the tale after tangling with Venom. That's why I admit that I am a little nervous about this new Spider-Man movie coming out this spring. With all the villains that have been created already it might be hard to make a fourth movie. This third installment is gona be the shizzz.