Are you ready for some football?!? Who wants to take some side action on how my Cowboys get some getback this weekend? I didn't think so. When it comes down to it y'all are scared of me taking over this pool shiite. You see where I'm at right now. I'm just lamping, waiting for a breakdown from AMADEO and CANDICE. You know its coming too.
Has everybody figured out the Bonus Points Heavy Rollers section yet? Itsoweezee. There are four(4) choices. You get to put the special sauce on two(2) out of the four(4). If you choose correctly you can make up for having a lackluster week. Here's a quick scoring recap for those of you without a back button on your browsers…
if your total exceeds 50pts you may only wager (1) pts per 'H.R.' pick
if your total exceeds 40pts but is less than 50pts you may only wager (2) pts per 'H.R.' pick
if your total exceeds 30pts but is less than 40pts you may only wager (3) pts per 'H.R.' pick
if your total exceeds 20pts but is less than 30pts you may only wager (4) pts per 'H.R.' pick
if you are ESBEE you may wager (5) pts per 'Heavy Roller' question
My dream is to have us all tied up at Week 16 and then we have a wild scrum for points in the final week. It could happen. In the meantime, while we wait for an actual sponsor to pay for the gift packages I thought I would give a shout to the website's virtual sponsor from way back – "Go From Ashy To Classy With CHAMPALE."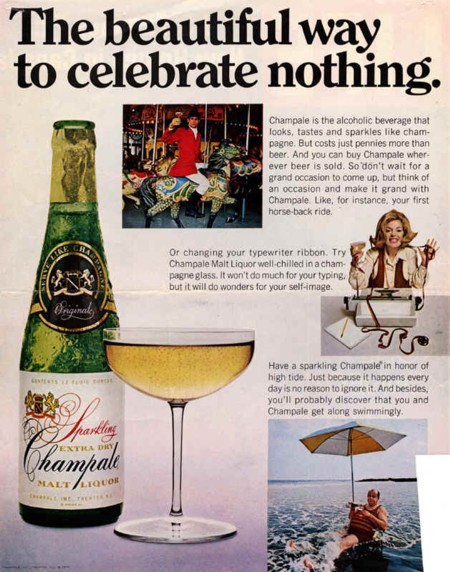 Here goes the Week 13 lineup. Brace yo'self fool…
ARIZONA CARDINALS @ ST. LOUIS RAMS
ATLANTA FALCONS @ WASHINGTON REDSKINS
KANSAS CITY CHIEFS @ CLEVELAND BROWNS
NEW YORK JETS @ GREEN BAY PACKERS
HOUSTON TEXANS @ OAKLAND RAIDERS
MIAMI DOLPHINS @ JACKSONVILLE JAGUARS
DALLAS COWBOYS @ NEW YORK GIANTS
BONUS POINTS * HEAVY ROLLER * BONUS POINTS
Who has more rushing yards this weekend?
MICHAEL VICK or SHAUN ALEXANDER
Who throws the most touchdown passes this weekend?
DREW BREES or PHILIP RIVERS?
Which team scores more points this weekend?
TENNESSEE or TAMPA BAY
Total combined score for MINNESOTA VIKINGS @ CHICAGO BEARS
OVER or UNDER 34 pts
What's the matter suckas? You scared?