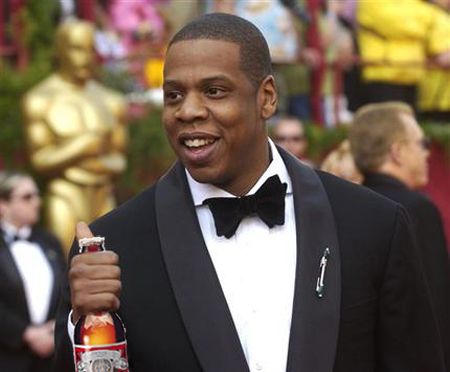 I should prah'lee qualify that headline statement since 2006 is the first time that I heard the 'Reasonable Doubt' album in it's entirety. I wasn't a fan of Jay-Z after he switched his style up to become a 'hustler'. First off, what grown man aspires to be a 'hustler'? Don't hustlers do favors for other men?!? O.K. So I think these dudes meant hustling as in drug selling. That's not as bad anymore, but where did all this come from? That wasn't the style that dude brought into the rap arena so I wasn't getting on board. I was a big fan of Uncle Ralph's video program and dude did not pop that shit in 'Hawaiian Sophie'. Anyhoo…
After I saw the 'Resonable Doubt' show at Radio City Hall I decided to listen to the album once and for all. I have to say that I enjoyed it from beginning to end. It's the perfect CD to play inside your car while your driving on the highway. It's like the soundtrack for anyone driving the getaway car after a bank robbery. It was total escapism. This Jay-Z guy is gonna be somebody one of these days. Since all the important Hip-Hop sites (as per XXL magazine) are doing their versions of year-end top 10 lists I thought I'd drop my own. Wanna see it? Well here it go…
1. Reasonable Doubt – Jay-Z
Since this is the first time that I listened to the entire album it's like it dropped this year and there was no way dude was making this list on the strength of that 'Kingdome Come' woodchuck.
2. Champion Sound – JAYLIB
I had to listen to this again after ol' dude passed away and the shit is still truck like a motherfucker.
3. Fishscale – Ghostface
Ghost brings it time after time. In ten years y'all will realize how futuristic this dude was and then y'all will try to buy my Iron Man kicks from me. No dice.
4. Hip-Hop Is Dead – NaS
NaS is another cat who seems to be re-energized with his career. Most disagree with me but I thought dude killed it on the track 'Who Killed It'. The character called NaS doing a character's voice is genius. All the haters are the same dudes that prah'lee couldn't figure out the 'Rewind' track from Stillmatic. I give NaS credit for not being lazy or a coward to trying new shit. I was also the only nigga who liked the 'Owe Me One' track with Ginuwine so fuck y'all again.
5. King – T.I.
Yeah, and what?!?
6. Doctor's Advocate – Gayme
A sweet, hearfelt G-song dedicated to his one true love. Just fun alone for counting the number of times he mentions Dre. Hint… Too many.
7. Most Known Unknown – Three 6 Mafia
I know this shit came out last year, but I didn't give a fuck about these niggas 'til they won the trophy! And I still don't care about these niggas, but I have to show respect to these cats for making stripper club music replace hyphy as that fringe Hip-Hop sound for the '06. You know them niggas from Duke University was trying to pwn that girl to the Three 6 Mafia soundtrack.
8. Game Theory – ROOTS
Have to give it up to the greatest sound system in Hip-Hop. The ROOTS musicianship will keep some cats relavent long past their due dates.
9. The Outsider – DJ Shadow
Nahh, but I thought I'd throw that in anyhoo for the clipster contingent (no Breihan).
10. Niggaz & White Girlz – Kirb & Chris
Hands down the greatest blend of Hip-Hop and big 80's evar. Get up on it.
For those of you that are scoring at home you should know that an album doesn't need to be released this calendar year to find my wheelhouse of taste. If my car hadn't been broken into and my OB4CL disk stolen that would have been the top album of 2006 again. So if anybody has the .rar for that one and the Chili Peppers 'Californication' send me the link. Nah'Mean?!?