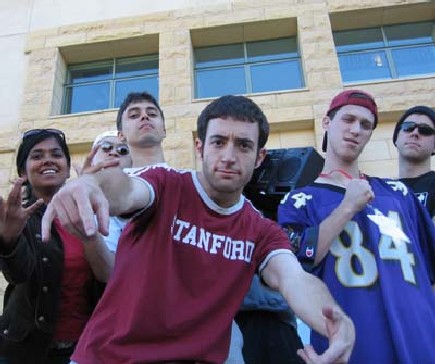 The revolution will be podcast into your iPhone. Believe that!
Word to Shamrock I am going to get the cRapper Fantasy League poppin' off in a minute. During my self-imposed media blackout this past weekend I fell and tripped on my television's remote control. While I lay inert on my living room carpet the t.v. played several episodes of the VH-1 megahit 'ego trip's (white) Rapper Show'. I hadn't watched the show at all because I was sure that VH-1 wasn't capable of broadcasting anything that I would find compelling, especially when it regards Hip-Hop culture.
I was pleasantly surprised watching the blood diamonds documentary that VH-1 aired last week and I will admit to being similarly engaged watching the reruns of the (white) Rapper Show. I was annoyed at first by the show's title because I had thought that the gimmickry of a white rap artist was now void because of Eminem's accomplishments inside of Hip-Hop. You would have to be out of your mind not to include him on your list of top 10 G.O.A.T., maybe even top five depending on how his career is completed. The truth about the people featured on this show is that they all loved Hip-Hop and would do their thing whether or not cameras were around. The fact that they were white has little relevance. It just doesn't. My favorite character on the show is ultimately the winner it seems. There is a wrap party tonight for the show in Brooklyn and JOHN BROWN is the featured performer.
I felt dude (no DeadLee) from the gate because he had the hardbody emcee name. There is no story in American history more gully than that of JOHN BROWN, except for your boy DENMARK VESEY. I can't wait for a rapper to choose that as a nickname instead of all of these Italian mafia characters or even Fifty Cent. DENMARK VESEY had them plantation niggas shook. So this kid JOHN BROWN seemed gimmicky at first but the truth that he loved Hip-Hop came through. He thought about his career from the artistic and business standpoint. This is something all artists need to do now. Your talent alone doesn't guarantee that your music will be heard. You have to have desire and some business savvy to separate yourself from the pack.
I don't know where this dude will be in five years but I welcome someone that has love for Hip-Hop and wants to learn the craft to be a better artist first and foremost. He's already achieved a level of fame that most underground artists dream of. Even those kids that won the first VH-1 freestyle battle have been forgotten by now. Maybe one day there will be as many white rappers inside of Hip-Hop as there are Black quarterbacks inside of the NFL. Then it will only be a question of heart, desire and skills.
UPDATE: WTF?!?! Shamrock won! Wait until you see my pictures from the wrap up party. DALLAS PENN carries weed for OnSmash dot com. DALLAS PENN takes pictures with G-Child and Persia. DALLAS PENN talks about rap music with arch-nemesis (well not really but blogger beef = + traffic rankings) Village Voice blogger TOM BREIHAN. Peace to 40 Diesel who was in the building with Lord Sear.
Stay tuned true believers