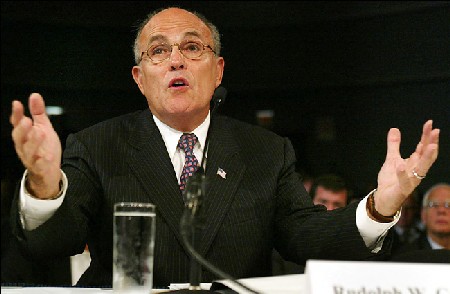 RUDOLPH GIULIANI is still on the G.O.P. campaign trail and his latest stop in California was his chance to ballyho his energy consumption platform. "America shouldn't buy fuel from it's enemies", and more blah, blah, blah 'muslim terrorists' rhetoric flowed from his lips. "It's embarrassing that Brazil has been more progressive than America in embracing alternate means of energy." What he was really saying is that if a so-called Third World nation can establish their independence from consuming American-backed fossil fuels, then we Americans have to start selling that other shit too. Don't you good people ever start to think that the energy used in America is controlled by anyone other than supremacists. There is no Islamic boogieman lording over the gas pumps. It's actually Uncle Sam. As for GIULIANI, I have three simple words for him…
HO SIT DOWN!
GIULIANI runs across the country in a mutli-vehicle motorcade and none of them shits are Priuses either. The most honorable thing for him to do would be to speak on the things that he does know about like putting people in bodybags and maintaining a grim visage. I'm surprised the people of California are hoodwinked so easily with blustery promises. Then again, California did vote for the Terminator.
As I patiently sit here waiting for the wheels to fall off the GIULIANI campaign bus, or my chance to vote in the Republican presidential primary in New York, whichever comes first, I'm reminded by the old adage of being careful for what you wish upon. So I promised not to ask grandma take out the root doll and send GIULIANI to the hell that GARY HART occupies.

POLITRICKS 2008 BONUS BEATS: DRAFT COLLEGE REPUBLICANS

thanks to DP Dot Com political correspondent ALEX2.0 for the link
'YE TUDDA says "EFF GIULIANI"
I don't know shit about politics, but I know that RUDOLPH GIULIANI don't care about Black people.

---