True story is that as I sat down this weekend to watch 'Blade Runner' for the fifty-eleventh time the VCR tape that was shoved in the case was 'What's Love Got To Do With It?' I laughed at myself for leaving my 'Blade Runner' flick in the range of my kid brother who prah'lee fell asleep during the movie and left it over someone's crib. No problems, I will just pull out plan B, 'The Empire Strikes Back'. Foiled again. The DVD case is empty. This is what I get for leaving my video stash at ma duke's house. It looks like I will be hitting up Target in the near future for a little more than I bargained for.
Replacing the O.G 'Star Wars' trilogy is mandatory, you already know that, but if you have only one science fiction dystopian days of future past DVD in your collection you need to have 'Blade Runner'. B.R. hits you on so many levels simultaneously. It's a hard boiled detective thriller with hardbody action scenes*pause*. Nah, but fools do get their wigs peeled proper like. Wild shootouts go down in a meta-urban downtown dive bar. Everyone in the cast was still pretty green in terms of mainstream success, but they all were sublime in their roles.
EDWARD JAMES OLMOS has put in work for his career from 'Miami Vice' to 'Battlestar Galactica'. His role as a seedy, origami-obsessed detective in 'Blade Runner' was boss money shit. RUTGER HAUER came through and did that psychotic sociopathic shit his ugly ass does so well. Did anyone see 'The Hitcher' with HAUER and C. THOMAS HOWELL? That shit was ill too. Getting back to 'Blade Runner' though… HARRISON FORD set himself up for life with this role even more than his work in 'Star Wars'.
He plays the detective that is conscripted to track down a group of killer androids. These replicants, as they are called, look like humans in every way. They have even been programmed with a set of memories that they use to draw upon. Once they find out that their computer brains have a four year shelf life a rogue group of replicants returns to Earth in order to see if they can reverse the outcome. Who knew that these androids would start to enjoy their lives? Not so much as enjoy, but they form a desire to continue living and learning and… Loving!?!
In the climatic fight scene between RUTGER HAUER's replicant character and FORD's detective we come to find that the replicants have acheived a level of humanity that no one ever expected. HAUER basically pwns FORD's character like a rag doll, but then when he has the opportunity to kill HARRISON FORD he elects not to. Instead he lets his brain just shut down effectively terminating his replicant software programming. The androids recognized that the greatest facet of humanity is the regard for life in all of it's forms. 'Blade Runner' has wild action and it gets deep like that.
One of the things I internalized the most about 'Blade Runner' was the architecture of the future dystopia. On the ground level it was like Hong Kong or possibly Times Square, but the skyscrapers were all seven hundred stories tall. I think this might have been the film that inspired me to pursue architecture in school and beyond.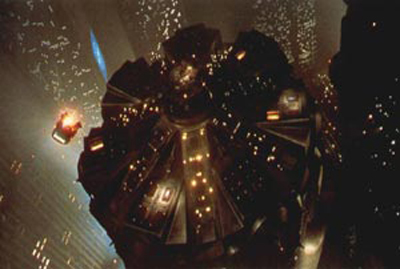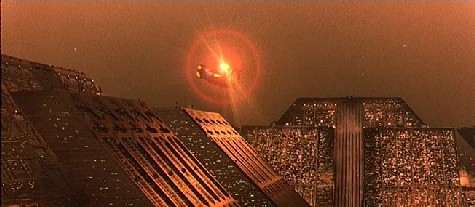 'YE TUDDA says "Copp this shit!"
Yo dawg, 'Blade Runner' had some dope, futuristic costumes. Remember homeboy that made the eyeballs for the androids? And that crazy bitch that ran through glass windows with nothing but her see through jelly rain jacket on?!? Yeah, that shit was ill.

---