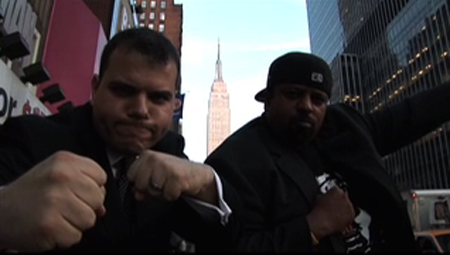 When the i.C.'s win, the internets wins. That is our motto. We try to take you in with us whether we win or lose. We won last week when Vh-1 granted us press credentials for their annual Hip-Hop Honors awards show.
Rafi and I both manage respectively popular websites that show the utmost love to Hip-Hop as a cultural artform. We are both Hip-Hop representatives in our own rights. How could we NOT be invited to attend this celebration? Very easily. While I had been invited to access the red carpet and press events at last years awards show I had not been extended an invite to this years' jumpoff. Could it be that the t.I.'s at Viacom had finally gotten around to reading my scathing diatribes on their programming?
Since I promised Rafi that we would be up in this event I had to scramble to get us some kind of access to the party. I reached out to my last connect at Viacom and she directed me to complete a last minute credential request. The i.C.'s were approved, but only for a three man crew. Back in the days of Ghetto Big Mac and Bodega this would have been acceptable, but ever since the Sundance Film Festival we have grown into a filmmaking production house collective. Basically, I needed another pass for our stalwart editor and occasional cameraman T-Bone [ll].
Up until the day of the event I had not been confirmed for all of us to have access. No matter, we still went ahead and met up on the corner of 34th Street and Eighth Avenue. Caz and T-Bone had conferred on which equipment to bring and they were definitely on point. Rafi came through and brought the energy and the swagger in a sharp pinstriped suit. I rocked a tight-fitting sportsjacket and one of my Oh Word J-Dilla tribute tees. For good luck Rafi and I both sported the iNTERNETS CELEBRITIES Nike Dunks.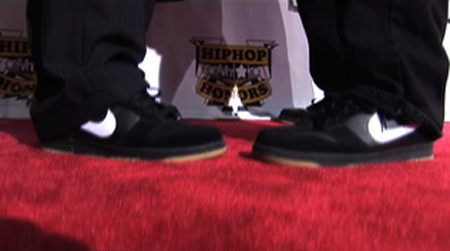 After a few minutes of deliberation we were issued press credentials for the entire crew. Raf, Cas, T and me immediately ran down to the red carpet to see what work was left for us to put in. The scene was mad hectic and tons of people were already firmly entrenched on the carpet's press platform. Shouts go out to Agent B for providing us with the logo for the i.C. microphone flag. i.C. is so wonderfully bootlegg and maybe that is why we are so Hip-Hop. Nobody in the press area had ever heard of the i.C. before then. They will definitely remember us after that day. Kerri Washington will remember that I called her Megan Goode and I will remember that she called me a sweaty, fat man. That was one of the greatest moments of my life. She and Eve might be the single prettiest women that I have ever been within five feet of.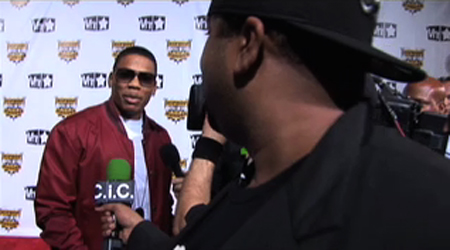 Another adventure of ours for that evening was trying to find the press room that had been set up inside of the venue. After walking through several stairwells and labyrinths we arrived at what we thought was media Nirvana. The press room was stocked with all kinds of free food and beverages. All the free Red Bull drinks you could want. Rafi and I then found the crafts services zone with hot food. Collard greens were dripping from my chin. I was a beast. This right here could have been the end of the line for us but I didn't want to leave anything on the table, literally or figuratively. If Rafi came all the way down to the city to party, and T was carrying around this gotdamn big ass camera, and Cas was text messaging his lady there was no way I wasn't gonna try to get us as close to the stage as possible.
Truthfully speaking, Casimir did his directorial thing and even documented the madness with his iPhone for good measure.
We descended into the stairwells again and this time we actually found heaven in the form of the Vh-1 V.I.P. lounge. Free booze and premium hors d'oeurves were set before us. This was where we finally gave ourselves the Team Chea toast. This moment was what I had bathed for earlier that day. I suppose we could have stayed in the VIP lounge and enjoyed the unlimited drinks, but there was still more to see and more to do. We took our final descent onto the floor of the Hammerstein ballroom for the Tribe Called Quest tribute. The performance was one of my favorite all time Hip-Hop moments.
When the i.C.'s win, the internets wins.
You guys won.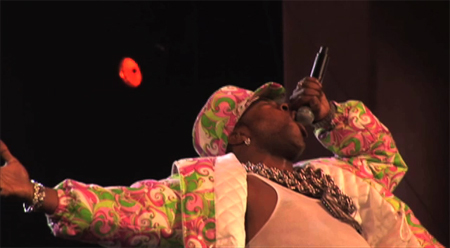 Peep the i.C.'s video diary of the 2007 Vh-1 Hip-Hop Honors awards before Viacom does that Illuminati bullshit and makes YouTube disable the video link.
Elsewhere, the saga continues…

OH WORD: So Icy, So i.C.
CHARTREUSE: The Price We All Pay For A Sarah Silverman Website
iNTERNETS CELEBRITIES: If sharing Scenario is wrong, I don't want to be copyright