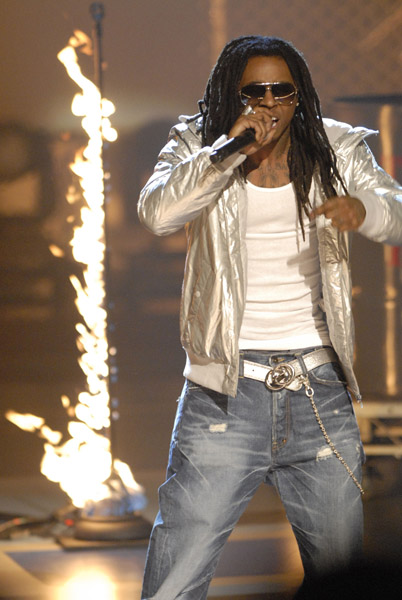 BILLY X. SUNDAY got the block on lock at XXL Mag Dot Com.
I'm listening to the Carter III advance and I'm looking for a sign that Lil' Wang is going to take over this rap shit. Something to make me shut the fuck up about his rhyming skillset. Something to make me realize how talented this dude supposedly is. I'm just not hearing it though. The beats from the C III preview are some of the best joints that Wayne has ever had to rhyme over. There's still something that dude is short on. Maybe it's too much of that syrup in his blood?
There's a track with Babyface on the hook and Mr.West on the beats. Most people would say that is the sure shot hit, but I don't feel like Wang goes in hard enough [ll]. There's another track called 'Kiss Me Baby' and just the title make me laugh my ass off. Thank God nowhere on that song did I hear Wayne talk about lip-locking his record label owner and surrogate father. Whew! Then I came up on the real hit on the advance. Lil' Wang doesn't even rhyme on this joint. Maybe that's why it was so good.
Lil' Wang lets one of his weedcarriers and presumably his best ghostwriter do all the rhyming. That was a good move. The next power move Wang made was to sing, nee sang, like a goofier Akon, or an O.D.B. on the drank. Wang gets wild on some talkbox vocoder type shit that all the kids are doing now, except Wang is perfect for the talkbox like Roger Troutman was because Wang just says whatever is on his mind. Kind of like how I blog on this XXL Mag Dot Com shit.
This is how Lil' Wang is going to take over the music business. He is going to become the greatest rapper ternt sanger alive. Imagine T-Pain on that HGH with a Maybach space shuttle parked out back by the pool. This shit is about to get crazy. The Black Robin Thicke is Weezy KissyFace and he ain't playing no more. I expect to hear duets with Amy Winehouse and Lily Allen. Fuck that, Weezy and Madonna in concert together. Madonna Effs Baby. And with that talkbox shit Lil' Wang can team up with Daft Punk and Donna Summer and bring disco music back. Do you not see the potential of this Carter III R & B album?
I was totally wrong about Lil' Wang and his Carter III project and this song made me see the light. So put on your shades, your shiny spacesuit and get you a Solo cup of that "Lean"…

LIL' WAYNE – About U