At the beginning of this quarter I think I said that this would be the time for the big dogs to come out and play. cRap music blue chippers reign supreme in the Q4. Jay-Z has all the momentum of a runaway train similar to T.I. when he had both an album in stores ('King') and a feature film in theatres ('A.T.L.'). What the hell has become of the world when CHARLIE ROSE has to sit down with Shawn Carter and call him by his stage name? This is why we created the cRap Music Fantasy League in the first place. You never really know what the fuck is going to happen in cRap music.
Speaking of T.I., or Tip, or whatever character he is acting as now. T.I. is the king of southern rap and he is a blue chip cRap music prospect. You will get your points from him no matter how shitastic his records are. And 'T.I. vs. Tip' was totally Top 10 shitastic. Diddy is in the top 5 of artists scoring totals for the cMFL and he hasn't even released a record in over a year. Diddy does what it do to get his label owners their cMFL points. From punching out friends in the club to attracting more lawsuits than the GEICO lizard, Diddy is the definition of a blue chip artist. By any means necessary, he gets points.
Here's a breakdown of the current cMFL scoreboard…
Krack Ko Kaine Entertainment 8450
Incilin Productions 8125
Gain Green Records 7650
WindBreaker Records 7625
America Done Fell Off Records 7525
WDISL Records 7075
Funk Town Records 7025
All Starz Entertainment 6925
Gunshine State Music 6400
The Nappy Ram Affiliates 6300
CRap-A-lot Records 6000
Open Cannister Recordz 6000
North Star Records 5950
Bang 2 Dis Entertainment 5925
Jesus Slap Boxers 5850
Candyland Records 5825
Pretty Dollar Entertainment 5600
Berries & Cream Records 5550
Fantasy Records 5500
Beat Break Records 5425
WTF Records 5400
329 Music 5375
Bodega Inc 5250
Media Whore Records 5025
Bottlenecks Records 4600
NYC Records 4575
DubbleUp Entertainment 4450
Combat Jack Records 4325
SayDatNuccaName Wreckids 4300
MIP Records 4100
Solutions Global Media 4075
Fuckin Sellout Records 4050
Vagina Crusher Records 4000
Talent Show Entertainment 3800
Barely Literate Entertainment 3775
Death On Arrival Records 3750
Mental Calisthenics 3450
Brick Productions 3300
New Black Money Records 3225
The Block Is Hot Music Group 3100
ASE Records 3000
Detroit In Dis Bitch Records 2275
County Of Kings Records 2250
BLZ Records 2150
Know The Limit Records 1400
Six Feet Deep Promotions 225
So you ask me what the keys are to winning the DP Dot Com cRap Music Fantasy League?
You should pick at least four (4) blue chip artists. The types of cRappers that stay in the news for doing shit. Whether it's beating the shit out of nail salon technicians or starting a business of low cost lawyers for hire to defend people when they get arrested. Blue chippers stay in the news for everything that they do, and occasionally some of them even rap.
Peep the pie chart above. Out of the 45 cRap Music Fantasy League label owners only two(2) did NOT select JAY-Z. What were they thinking?
KanYe West wasn't nearly as popular a Q4 selection as JAY-Z, but 'Ye Tudda remains a blue chip point scorer. GQ Man Of The Year, 1.5m sold for 'Graduation', awards shows and all kinds of Hollywood shit.
18 of the 45 labels chose KanYe West and right now he is the second highest point scorer in the cMFL behind T.I. KanYe will be the difference between the winners and the whiners in this quarter's pool.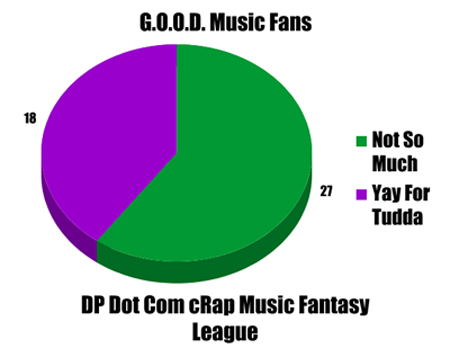 The way you win the cRap Music Fantasy league is by picking one or two dark horse cRappers that come from the back of the ranks to score unexpected points.
Remember in Q3 when Remy Ma bust that cap in her weedcarrier's gut? That is the type of shit that will put a label owner over the top. This quarter's money boss dark horse is Common Sense. He has major motion pictures coming to theatres along with marketing and merchandising arrangements. Who knows, 'Finding Forever' might just go platinum too? Mo' money, mo' money.
The only thing about Common is that only two labels picked him so if Common goes on a point scoring spree 43 of the cMFL label owners will be left out. Common Sense might be the difference for whoever winds up prevailing in the cRap Music Fantasy League.