Okay, so I don't totally feel a kind of way about missing the 'Rock The Bells' show this past weekend. That was my fault anyhoo for not securing my tickets months ago.
I wasn't really pressed though because I knew I was going to see 'Ye Tudda at Madison Square Garden for the NYC leg of his 'Glow In The Dark' tour. I'm sure that 'RTB' was definitely some historic shit too, but after seeing Cons 2 The Quence, Lupe Fiasco, N.E.R.D. and Mr.West all put it down I am ready to buy a ticket to the encore performance tonight. It was that good. KanYe was that good. [ll].
Before I recap the impressions I got from the show I wanted to do a drop with some of my favorite pics from the night. I can't remember the last time I was at the Garden and the energy was this sky high. It was like a Knicks playoff game, except there were hell'a more sexy women, including the lovely C.S. I usually take her out on Tuesday nights to the free movie that her Optimum Rewards card gets us. We sneak some Chipotle into the theater and watch some shit like 'Step Brothers' or whatever. Last night I took my lady to a first class show. Complete with front row tickets courtesy of Universal Island Def Jam Roc-A-Fella. Did I say Interscope too?
Really real front row sonn!
A whole lot of folks were in the building to catch this concert which has been buzzed about as one of the greatest Hip-Hop shows of all time. Whenever I hear someone give something that extra hyperbole I always get skeptical. I've seen a whole lot of Hip-Hop shows and for a show to be the greatest it has to bring that shit from the beginning to the end.
This show brought it. And then some.
Okay, okay, let me show you some pics first…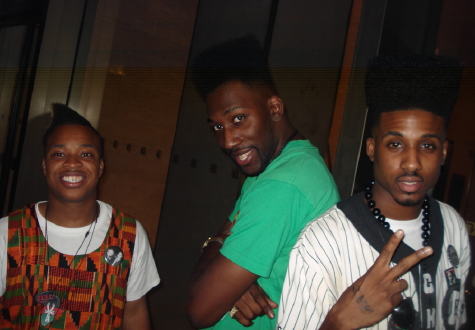 The original Retro Kids. Yeah, that's an oxymoron, but you get my point I hope. Props to the high top fades a/k/a the Negro Mullet.


Mr. Bentley gets slowed down a bit at the Will Call window. If only Fonsworth had fucked with the iNternets Celebrities concert etiquette video he would have known Concert Rule #1: Make sure your shit is on the list.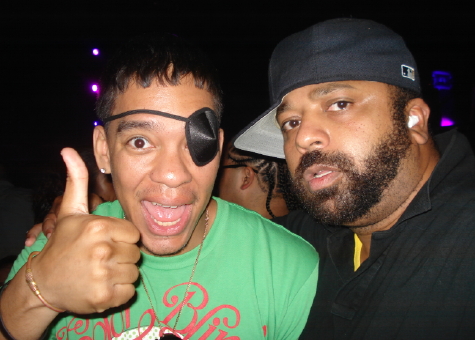 Hipster rap douchebag phenomenon Double-O a/k/a "I ain't dead motherfuckers!" a/k/a Ferrrrrrnando. Dub-O is a funny dude who loves Hip-Hop and doesn't take his stardom too seriously. His group, Kidz In The Hall, is poised to be the next thing blowing up from the Chi.


Oh Shit Alert! Maxwell cut off his damn hair.


Wale is my nigga. He just returned from a quick tour overseas. I asked him how he liked it and he said, "over-rated". I have to ask him more about that since he is Nigerian and there is a shiiteload of folks from Lagos living in London. I wonder if his countrymen didn't have no love for the kid. No matter, I fucks with Wale [ll].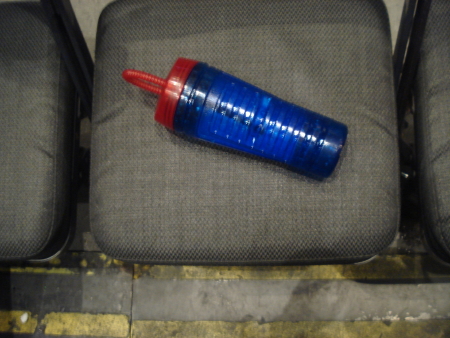 Guess who got himself a new sippie cup for those long hours of blogging in his mom's basement? It's me bitches!


The Air Max Griffey in the Blu Cheez colorway. Still only my second favorite sneaker at the concert. 'Ye Tudda sported two different colorways of the Air Yeezy. After I copp those I will officially retire from the sneaker game.


My second favorite picture from the concert is of Skateboard P's earring. That shit cost more money than the car I drive.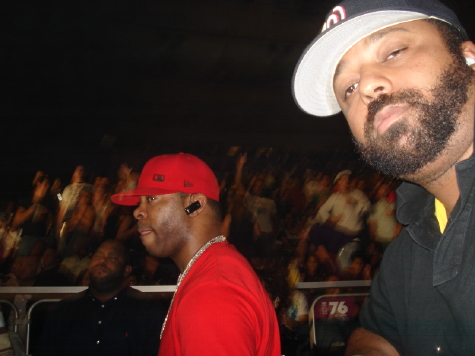 My favorite moment of the night… During the N.E.R.D. set I tried to get in a pic with Bussa Bus. Dude gave me the "SHHHH" sound and told me to "pay attention to the show". Busta is truly out of his mind so I took the pic anyhoo. Then Busta realized that it only takes a second to make a new fan.
Come back here in the afternoon for my concert recap.
Chea!