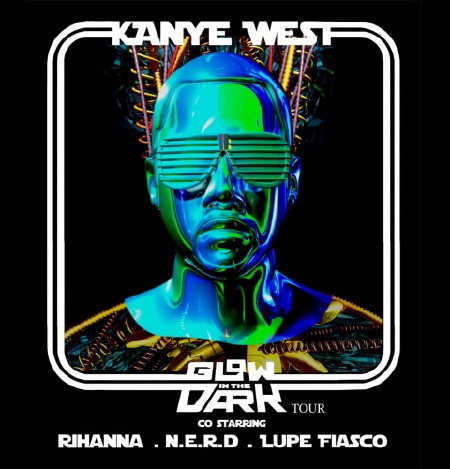 Yes, this is the concert of the year. 'Graduation' was a certified instant classic album. It's anthemic from the first song to the last. It's the kind of album that was meant to be performed in an arena in front of tens of thousands of people holding their cellphones, lighters and glowsticks in the air. The fact that KanYe's mother passed away during his ascent to the position of the ultimate rap performer is just some drama that even Hollywood could not have crafted.
Despite KanYe's perceived arrogance or bitchassness or whatever attitude that we imagine he has the truth is that if there were ever someone that covered the majority of cultural pathos in music it would be KanYe West. This dude is the everyman. He wants it so badly and he works so hard to achieve it. My favorite aspect of KanYe West is that he is motivated by people that say he can't do something. There is no better feeling than throwing shit at your haters. I need to be more like KanYe. I'm going to get those pills.
The Glow In The Dark concert might also be called the hipster rap douchebag festival somewhere on the internets. The truth is that there weren't too many hipsters in my sightline. The concert was all Hip-Hop too. I have never seen a Hip-Hop concert in an arena with this level of production and energy. This includes my experiences going to see Eminem perform. Now that nigga should be considered a hipster rap douchebag. All the acts that took the stage were surpisingly seasoned and polished. The show was like witnessing a rap music revival sponsored by the church of Hip-Hop. The performers were energetic, earnest, decadent and relevant.
Get yourself a ticket to the Glow In The Dark show if you got your money right. After that I won't be able to tell you nothing.
*Click here to view BLU CHEEZ' Glow In The Dark photo album*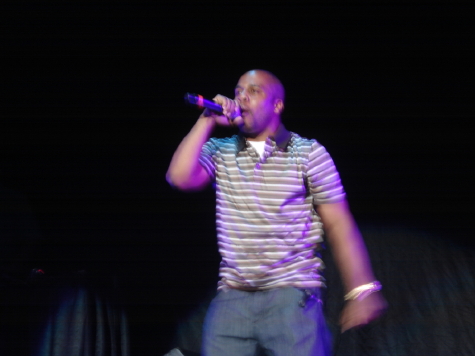 CONSEQUENCE
Cons opened the show on time. I loved his album 'Don't Quit Your Day Job'. Cons is one of those rappers who require you to press the rewind button. The best thing that Cons did though was his collaboration with KanYe. Cons is the dude that helped 'Ye Tudda take his flow to that next level. PETER ROSENBERG manned the deejay set for Cons performance. This was a good way to get the show started. The spaceship was taking off.


LUPE FIASCO
Lupe surprised the fuck out of me with his performance. First off, he came out on stage as the embodiment of cool in an all black ensemble complete with tie and vest. 'Kick Push' was his first song and I almost thought he was on a skateboard while he was on stage. Lupe's energy and his attitude were incredible. This dude really likes to rap and he has no problem remembering his own lyrics. His breath control on 'Go Go Gadget Flow' was remarkable. If I ever said anything bad about Lupe before I take it back. His set made me a fan of his music. I love people that love to perform with no reservation. This is why Lupe is always falling off stages. He runs and jumps around with reckless abandon. We should all like our jobs that much.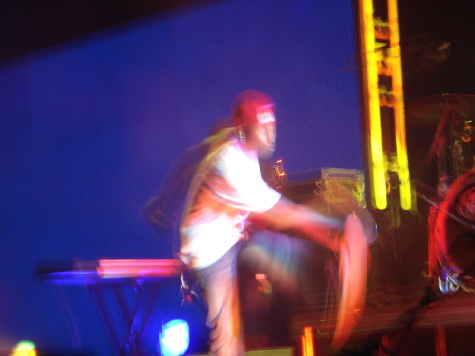 N.E.R.D.
I've seen N.E.R.D. perform live before so I knew what I was going to get from them. N.E.R.D. brought out a band to back them up. The guitars let PHARRELL get his rockstar right. What I liked about N.E.R.D. the most is that they didn't waste our time or slow down the pace. Star Track Records lived up their name by putting our spaceship in orbit. 'She Wants To Move' is when they let some of the prettiest women in the audience get on stage and shake their moneymakers. That was the perfect finale for them.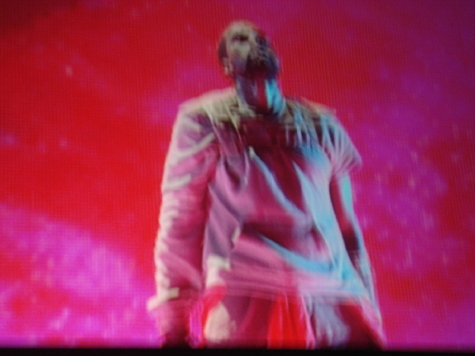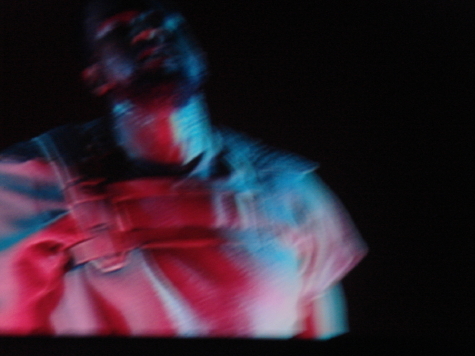 KanYe West.
I have never seen 'Ye Tudda in concert before. Actually, I saw him about six years ago at the Supper Club during a taping of Def Poetry. Mos Def brought him out and called him the "future of Hip-Hop". I certainly didn't appreciate Mos' clairvoyance at the time. KanYe West is really Hip-Hop's Luke Skywalker. He saved Hip-Hop with his passion for making G.O.O.D. music (no pandering intended, okay maybe some pandering intended). The audience sang along with KanYe through every song. It was like we were taking a trip with him through his life. Through the ups and downs, the triumph, the tragedy and finally the victory. Shit was wildly emotional. Don't be confused buy the elaborate set designed to be a spaceship. This performance, like all his performances, was personal.
I love to tease KanYe West like the rest of the internets does. His hubris makes him a perfect target at times. Then there are times that KanYe flips the script, literally. There is no one in the entertainment industry, not even NaS, who would have made the statements that KanYe made on broadcast television post-Hurricane Katrina. For all of his vanity he shows us his vulnerability. This is what makes him invincible. Go see this show tonight if you are in NYC. You'll be a better person for it.
This blog drop approved by 'Ye Tudda

---