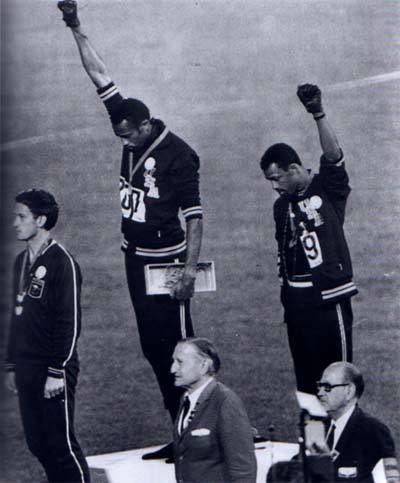 Editor's note: 40 Diesel is my man like fifty grand so I will allow him to say anything he wants to on this site. He can even exhalt in the triumphs of athletes who are no where near as courageous as the two pictured above. Leave it to 40 however to redefine patriotism through the liberation of one's paycheck. Read on DP Dot Commenters…
As if you didn't know already, the Olympics are underway in all of its glory and all of its gall. The Olympics used to be a place of international competition and the overall goodwill of humanity through sport, but in the modern era its been come the global pulpit where grievances and pride are aired and displayed. Much ado has been made about China's role in the situation in Darfur, and many of the "Official Corporate Sponsors" i.e. Coke and the like are catching grief under guilt by association. Honestly unless someone gets the balls to do something in line with TOMMIE SMITH and JOHN CARLOS in the '68 Mexico City Games, then its just more liberal hustler propaganda (ala the Obama tee), because we need so save Baltimore as well as Darfur – IF NOT FIRST. Its gonna take a more profound act than bitching or some random rubber bracelet.
One of the common targets of corporate sponsorship/irresponsibility by the arm chair granola set is one of my beloved brands – The Nike Corporation of Beaverton, Oregon. Nike is always catching beef from the New Balance liberal hustler set for their labor practices and their sneaker prices. However there is no denying Nike's influence on the global athletic community, and isn't that what the Olympics is about anyway? Nike's global positioning is no accident and the global icon and pitchman that is probably most responsible for this is His Airness MICHAEL JEFFREY JORDAN. MJ is no stranger to the Olympics, having won two gold medals, first in the '84 LA Games, and the other with the team of universe beaters aka "The Dream Team" in the '92 Barcelona games.
Lets be real for a second – DAVID STERN gave Jordan the job, but Nike made Jordan the global icon, to which Stern's NBA is still reaping the benefits from. To this day Nike is still a corporate king maker of athletes, and their list of endorsers will shake the foundation of what ever sport they outfit for these dudes for. Having lost out on the NBA/NFL outfitting contracts a few years back, Nike had been itching to get their Swoosh on American professional athlete's uniforms. Well they got their wish as Olympic outfitters most important USA Basketball which was renamed "The Redeem Team" for the '08 Beijing Games.
So of course in true Nike fashion they've gone all in for this. They've debuted the HYPERDUNK, Nikes newest sneaker technology since they debuted the SHOX in the 2000 Sydney Games ("Hey Fred Weis, tell me how my sack tastes" – Vince Carter). Also, whats Nike with out some jaw-dropping. awe-inspiring, game-changing commercial that makes you understand why they're running this shit literally and figuratively? I give you 40's "Exhibit A":
Come on man. Thats that shit right there. I'm sending that advertising a firm a Kwanzaa card this December. Plus what I love about this year's men's hoops squad is the bigger picture they represent. Don't let the media MICHAEL PHELPS you to death, his quest for individual success is great and all, and as America's premiere white Olympic athlete he's gonna get alot of deserved coverage. However the global community is getting tired of America's individualistic posturing, and with the proverb of "It takes a village to raise a child", its gonna take a team to raise this nation. That team is the US Men's Basketball team.
At the opening game against the Chinese National Squad, KOBE BRYANT was mobbed while G-G-G-G DUBYA was merely golf clapped out of diplomatic politeness. LEBRON, 'MELO, WADE and the rest of the team are rock stars in the Olympic Village, all while maintaining a level of humility focused on the goal of THE GOLD. Most of (white) America would love to paint these guys as cocky, brash spoiled NBA brats, which just isn't the case. The guys who were on the team who are carrying the shame of the '04, third place finish are motivated (LeBRONZE JAMES), and all these men have said that this experience is bigger and more important than any NBA title they've ever competed for or won. They have elevated themselves over the simplistic critiques of being a team of primadonnas to a cohesive unit with a singular goal. Who says that brothers can't get along?
I don't know how the rest of the world sees this team, but it does my heart proud to see the descendants of chattel slaves, evolve in to a solid BILLION DOLLARS of black wealth out there defending the pride of this country. These are the disciples of Jordan. They understand the game and the blueprint he's laid out for them to follow and improve upon. Represent for your responsibilities, and handle your business. America may chide these young men for not having a college degree between them, but they damn sure know history and economics. They understand that they have a job to do as ambassadors, but also know they are global icons and thats gonna cost anyone who wants a piece of that. If you want us to represent this country which has been egregiously thankless to us, then we're gonna redefine our American and get our slice if the pie even if gotta bake it ourselves. Thats why Kobe & Co got Stern a little nervous when they all more than admitted they'd be foolish not to take a $50M European deal…
And I completely understand that mentality. Whether its Crispus Attucks in Boston, or Joe Louis vs. Max Schmelling, America will rally behind its Negroes when their causes are the same, just for them to return to "their spot" in line when the aim is achieved. Think I'm lying, read any NBA beat writer come January. All that good will they had for these guys after they get the gold will all be vanquished, and they'll be back to "million dollar thug crybabies". If I've seen it once, I've seen it a million times. So get that gold medal fellas, and get all the gold that goes along with it. And if that leads you to foreign shores, NBA hoopsters than do what you got to. But for now rock the Stars & Stripes with pride and what ever swagger you have to – this is your country fellas. I for one am proud.
BTW – thanks to NaS for the title of this drop. "You Can't Stop Us Now" has become that anthem… "From pyramids, to cotton fields, to Wrigley Field."

NaS featuring EBAN THOMAS – 'You Can't Stop us Now'
P.S.: Dallas the challenge is for you to get that 'LO lifestyle Olympic Ceremony blazer. Considering I scooped the ROOTS USA Jacket form the '04 Athens Games, its gotta be out there to be had!!!!